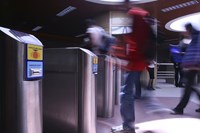 Train fares will go up on average by 2.3 per cent next year, rail industry leaders have confirmed.
2.3 per cent average increase next year
97p in every £1 from fares pays to run and improve services
Money from fares supports £50bn-plus Railway Upgrade Plan
More than 5,500 new train carriages by end of 2020
The average overall increase covers all national rail fares with effect from 2 January 2017.
People can find the new fares and buy tickets online and at ticket offices from today (2 December).
Paul Plummer, chief executive of the Rail Delivery Group which represents train operators and Network Rail, said:
"We understand how passengers feel when fares go up, and we know that in some places they haven't always got the service they pay for. Around 97p in every pound passengers pay goes back into running and improving services.
"Fares are influenced by government policy, either through government-regulated fares such as Season tickets or as a result of the payments train companies make to government. This money helps government to support the biggest investment in our railway since Victorian times."
Train companies are working with government to bring about regulatory reforms that will make fares simpler in future.
Rail companies are working together to deliver more than £50billion of improvements, including £11.6billion being spent on more than 5,500 new train carriages by the end of 2020.
About Rail Delivery Group
The purpose of the Rail Delivery Group (RDG) is to enable passenger and freight operators and Network Rail to succeed by delivering better services for their customers. This ultimately benefits taxpayers and the economy.