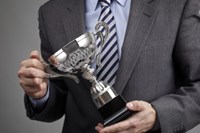 Better bike facilities at stations and on trains are helping to fuel a rapid rise in the number of people combining cycle and rail to get to work or to make leisure trips, with around 50million 'cycle-rail' journeys last year, up 40 per cent on 2010.
The number of cycle-rail journeys where a bike is parked at a station has increased by 70% per cent since 2010. The number of cycle spaces at rail stations has risen from 23,500 to more than 70,000 in the last six years, with that number is set to rise to 75,000 in 2017.
The National Cycle Rail Awards, run by the the Rail Delivery Group (RDG) on behalf of the Cycle Rail Working Group, are sponsored by CyclePods and are now in their 12th year. The Awards play a key part in increasing cyclists' access to the railway by improving communications and spreading best practice.
This year's winners, judged in tandem with cycling stakeholders and campaign groups, include:
Best Customer Experience - East Midlands Trains for 'A Cyclist's Experience',
Partnership Working - Sustrans Scotland for the Links to Borders Rail and Haymarket Station Cycle Facilities,
London Cycle Parking - Waltham Forest Council for Cycle Hubs,
Innovation – Bainton Bikes and Great Western Railway - Introducing a First for the UK - in cycle hire
Station of the Year - Abellio Greater Anglia for the Cambridge CyclePoint, and
Operator of the Year – East Midlands Trains
The awards were opened by All Party Parliamentary Cycling Group Chair Ruth Cadbury MP and presented by Transport Minister, Paul Maynard, MP at a ceremony hosted by the APPCG sponsored by Cyclepods.
Jacqueline Starr, Managing Director for Customer Experience at the Rail Delivery Group, said:
"Record numbers of people are using cycles as part of their rail journeys and this growth is down to the dedication, determination and joint work of the Department of Transport, train operators, Network Rail and our partners both inside and outside the rail industry.
"This year's awards winners have made outstanding contributions to cycle-rail covering everything from new and improved station facilities to better passenger information and customer service."
About Rail Delivery Group
The purpose of the Rail Delivery Group (RDG) is to enable passenger and freight operators and Network Rail to succeed by delivering better services for their customers. This ultimately benefits taxpayers and the economy.