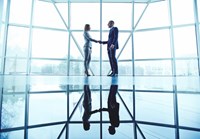 Chris Burchell, Managing Director for UK Trains at Arriva, has been appointed as chairman of the Rail Delivery Group (RDG).
Following his appointment by RDG directors at a meeting on Tuesday 29 November, he commences his new role with effect from 1 January.
Chris succeeds the RDG's previous chairman Martin Griffiths, Chief Executive of Stagecoach Group, who has chaired the RDG Board for a planned three-year term since December 2013.
Chris Burchell said: "The RDG exists to enable train companies and Network Rail to succeed in transforming and delivering the modern, successful railway that Britain needs and wants, and I am proud to have been asked to lead its important work delivering that. I also want to pay tribute to three years of great leadership by Martin Griffiths."
"The railways have delivered remarkable growth, with passenger numbers doubling over the last twenty years. But this growth has brought challenges as the railways have become more crowded and the limits of capacity that can be delivered from the existing network are increasingly being reached. At the same time, customer expectations continue to rise with demands for even better services, simplified ticketing and fares, and improved technology.
"Industry and government is responding through a £50bn-plus Railway Upgrade Plan with investment in new trains, infrastructure and services, and the customer agenda is, rightly, front and centre of the debate about how to modernise our railways.
"This is an important point for our railways and further reform is essential to meet the demands of customers and support the UK's economy, and I'm looking forward to working with all our stakeholders to help shape this crucial agenda."
Martin Griffiths said: "It has been a huge privilege to be part of such a pivotal period in the development of Britain's railway and I wish Chris Burchell well in the next stage of that important journey. A massive amount of work is underway to transform the travel experience for our customers. The success in building Europe's leading and fastest growing railway is helping fund the biggest investment in the network since the Victorian era. "But we will only complete the work we have started and deliver the railway our customers want by all partners working together.
"Train companies, Network Rail, Government and other stakeholders each need to face up to tough choices in the parts of the system they control and make the critical changes needed to give our customers a modern railway fit for the 21st century."
Mark Carne, RDG Deputy Chair and Chief Executive of Network Rail said: "The RDG is crucial to ensuring that the railway in Britain continues to modernise and improve for the ever-growing number of passengers and freight customers that use it.
"I'm proud of the work Martin and I have been able to deliver to help rail companies meet the needs of our customers. I congratulate Chris on his appointment and look forward to working alongside him to continue the important work Martin has led for the last three years."
Chris began his railway career as Area Production Manager at Railtrack, and after a stint as Business Implementation Manager at the Foreign and Commonwealth Office worked as Director of Operations at Thames Trains. He was Managing Director at Southern Railway between 2004 and 2014 before taking up his current full-time role at Arriva. He was also chair of the railway industry's cross-industry National Task Force between 2010 and 2016.
About Rail Delivery Group
The purpose of the Rail Delivery Group (RDG) is to enable passenger and freight operators and Network Rail to succeed by delivering better services for their customers. This ultimately benefits taxpayers and the economy.