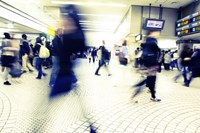 Work to modernise ticketing and information are among significant improvements benefitting rail customers, the Rail Delivery Group (RDG) has told MPs.
In response to a wide-ranging Transport Select Committee report on Improving Rail Passenger Experience, Jacqueline Starr, RDG Managing Director of Customer Experience, says:
"We agree that in too many places passengers are not getting the service they deserve and we are working relentlessly to improve the service we provide to our customers."
The RDG accepts proposals by the committee on several issues, including 'addressing the complexity and transparency' of ticketing: "Ticketing is fundamental to customer experience on the railway and we acknowledge that more needs to be done to make buying and using tickets simpler."
A newly published retail ticketing strategy sets out how customers on every part of the network will have the choice of barcode ticketing by the end of 2018.
The RDG's letter to committee chair Louise Ellman sets out other improvements and responses to the MPs' proposals including:
Under our plans to measure punctuality to the minute at every station, Britain will have the toughest train performance measures anywhere in Europe. A new website - MyTrainJourney – lets customers check the punctuality of their specific, chosen journey from what happened yesterday up to a year ago and make informed choices about which train to catch or route to take;
RDG will set out a detailed plan on a minimum set of standards for all train company websites and apps;
Significant work is underway to install Wi-Fi on more trains and stations, and RDG is happy to work with the Department for Transport and Network Rail to produce a strategic plan for further implementation;
RDG supports the Committee's recommendation that a National Rail Passenger Survey every three months rather than twice a year "would be significantly beneficial to both customers and the industry".
About Rail Delivery Group
The purpose of the Rail Delivery Group (RDG) is to enable passenger and freight operators and Network Rail to succeed by delivering better services for their customers. This ultimately benefits taxpayers and the economy.