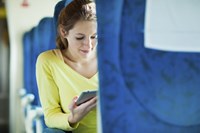 Train travellers in Wales will be the first to try a new networking site designed to help reunite customers with belongings lost on trains or at stations.
Arriva, supported by the Rail Delivery Group (RDG) which represents train operators, is running a two-month trial of FindMyLost, an innovative digital 'lost and found' platform which lets anyone who finds an item, including customers and railway people, to put online a description, photo and details of where and when it was found.
Someone who loses something can put details on FindMyLost in the same way and search on the site, and if it has been reported found can contact the lost property office where the item is being looked after to arrange to collect it or have it sent back.
Users can set up alerts with a lost item's description to receive a notification when it appears on the system.
Barry Lloyd, Head of Customer Experience at Arriva Trains Wales said;
"We recognise that reclaiming lost property can be quite stressful for customers, so we are really excited to trial this new system which we hope will really improve the overall experience.
"We look forward to learning from the trial and hope that we will end up with a really easy to use system which will really help anyone that loses property when travelling with us."
Delphine Merlot, RDG Head of Innovation & Partnerships, said:
"Lost property is a real bugbear for customers. Losing a personal item is stressful enough without having to go through a complicated process to find it.
"We want customers to test this innovative technology with us. FindMyLost is simple and can save a lot of time and trouble, a quick and easy 'self-service' way for customers to search for and claim what they've lost."
Elena Bellacicca, FindMyLost CEO & Founder, said:
"We are pleased to be working with Arriva and the Rail Delivery Group. Together we want to give customers a better, more efficient lost property service and help them to find what they are looking for quickly and easily."
About Rail Delivery Group
The purpose of the Rail Delivery Group (RDG) is to enable passenger and freight operators and Network Rail to succeed by delivering better services for their customers. This ultimately benefits taxpayers and the economy.