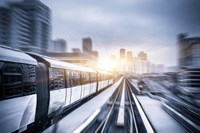 After a decade of growth and investment, Britain's railway is at a 'crucial turning point' and must harness the latest technology and smarter ways of working to further improve services, grow the economy and create jobs, say rail industry leaders.
Twenty-seven leading figures in the industry, including the biggest rail companies and manufacturers of thousands of new, modern trains make their case in an open letter to The Times newspaper today (21 November). At the same time, the industry is publishing a report setting out how changes are essential to address the capacity challenge facing Britain's railway and to make train travel more reliable, more accessible, more affordable and more comfortable.
The report by the Rail Delivery Group, which represents train operators, Network Rail and High Speed 2, shows how technology on new trains, in new signalling systems and in the way tickets can be bought and used will benefit customers and change jobs in the rail industry.
Train companies already employ 30 per cent more staff than 20 years ago. Forecasts suggest that rail companies and the rail supply chain will need 100,000 new recruits over the next 10 years to take on new roles and to replace retiring workers.
Britain's railway is critical to the nation and rail companies are delivering a £50bn-plus Railway Upgrade Plan to improve services, says the report. Further changes are needed, though, to get the most out of this investment and to deliver the extra trains and improved service passengers expect and the country needs.
Paul Plummer, chief executive of the Rail Delivery Group, said:
"Ten years into delivering a plan of sustained improvements, the railway is more important to the country's prosperity than ever. Billions continue to be spent to deliver the modern services the nation needs. Getting the most out of investment means adopting new technology and changing outdated working practices.
"A modern railway will mean more reliable, more comfortable and easier journeys for rail customers. It will create thousands of opportunities for people who work in the industry in new, more highly skilled roles. A railway that doesn't change will see customers missing out on better services, it will be a drag on the economy and, in the long term, it puts the very future of the industry in doubt."
About Rail Delivery Group
The purpose of the Rail Delivery Group (RDG) is to enable passenger and freight operators and Network Rail to succeed by delivering better services for their customers. This ultimately benefits taxpayers and the economy.