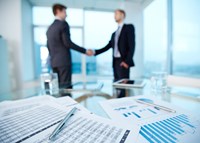 In a landmark coming together, passenger and freight train companies, Network Rail and their suppliers will today, as one railway working in partnership, launch a 'single plan' for Britain's railway.
The plan, backed by business and passenger groups, makes four commitments for change to build on the railway's progress of the last 20 years. It includes new independent research which shows how a changing partnership railway will secure almost £85bn of additional economic benefits for the country by connecting people to jobs, housing and new business opportunities. This is in addition to the existing £31bn of economic benefits the railway delivers each year now.
The plan, called 'In Partnership for Britain's Prosperity', is backed by all passenger train operating companies and Network Rail, as well as rail freight companies and the supply chain acting in partnership as one railway for Britain.
It will see the whole industry make four commitments for change, to protect the benefits of investment and innovation to unlock extra economic benefits, improve journeys, better connect communities and increase jobs in rail, supporting the country as it leaves the European Union.
To strengthen and improve the partnership railway in the long-term, rail companies are making these four commitments for change:
Commitment 1 - Strengthen the railway's contribution to the economy, keeping running costs in the black, freeing up taxpayers' money
Commitment 2 - Increase customer satisfaction by improving the railway to remain the top-rated major railway in Europe
Commitment 3 - Boost local communities through localised decision making and investment
Commitment 4 - Create more jobs, increase diversity and provide our employees with rewarding careers
Securing the economic benefits of the public and private partnership will mean that:
In the next 18 months alone, customers and communities across the country will see a transformation in their railway with more trains, better services and improved stations;
Investment into rail of over £50bn will help to deliver 5,700 new carriages on track by 2021 and 6,400 additional services per week;
Customer journeys will be improved using technology to increase capacity by running trains closer together, to improve information to help passengers during disruption, and to make buying and using tickets quicker and easier;
Improved services and greater confidence for customers with the introduction of a new Independent Railway Ombudsman, by Summer 2018, ruling on unresolved complaints;
A stronger voice for customers in England and Wales with customer representation on joint supervisory boards, or an equivalent – a partnership between the rail industry and customer groups;
Our staff in the railway will benefit with 100,000 job opportunities, £1bn investment in our team, the creation of 20,000 new apprenticeships in rail and its supply chain by 2020 and doubling the number of higher level apprenticeships every five years.
In addition to publishing 'In Partnership for Britain's Prosperity', over the coming months, rail companies will be launching local activity to demonstrate changes for customers, businesses, communities and their people locally, and continuing to engage with local stakeholders about the future of the railway in their area.
Speaking at the launch of In Partnership for Britain's Prosperity, Paul Plummer, Chief Executive of the Rail Delivery Group (RDG), which brings together train operators and Network Rail to enable a better railway, will say:
"Today is a landmark coming together. This plan, delivered by a changing partnership railway, will secure the economic benefits from current investment by the public and private sectors, and enable further improvement and investment.
"That's why today, we are making four commitments for change to safeguard our economic contribution whilst delivering the best deal for taxpayers, to improve services for customers, better connect local communities and secure more jobs in rail. This plan will deliver the railway that the economy, customers and communities need as Britain prepares to leave the European Union."
Mike Cherry, National Chairman at the Federation of Small Businesses, said:
"Well-maintained and integrated infrastructure is crucial for small businesses and the economy as a whole. Promised investment from the public and private sectors should help boost businesses, the economy and communities around the country, but it needs to be delivered without delay.
"Improvements in connectivity are vital for the productivity and growth of firms for whom rail is key for customers, visitors and freight. With Brexit on the horizon, the commitments in this plan should be good news for small businesses up and down the country that rely on rail."
Dr Adam Marshall, Director General of the British Chambers of Commerce, said:
"A strong railway network is critical to the success of business communities all across Britain. Rail connects businesses to opportunities, individuals to jobs and freight to customers. Businesses absolutely agree that the public and private sectors need to be working together to deliver better, more reliable rail services now and into the future."
Neil Carberry, CBI Managing Director for People and Infrastructure, said:
"Railways are at the heart of our prosperity, enabling businesses to grow. Whether transporting staff to work or meetings, or moving goods around the country and to our ports, they should be at the heart of the Industrial Strategy. Businesses across the country want to see the improvements set out in this plan happen, delivered in partnership by the private and public sectors."
Anthony Smith, Chief Executive of independent passenger watchdog Transport Focus, said:
"Passengers' priorities are reliable, punctual journeys that offer good value for money. They will welcome plans that will help deliver this for them."
Mark Carne, chief executive of Network Rail, said:
"Over the next 18 months passengers and communities across the country will see a transformation in the services that they receive. Thousands of new trains will be introduced as the culmination of years of heavy investment in improving our railway comes to fruition, stimulating the economy by delivering new job and housing opportunities.
"Network Rail's transformation is bringing track and train more closely together for the benefit of passengers. This plan will accelerate change and deliver further investment and improvements bringing more improvements for passengers, communities and businesses across Britain now and in the long term."
Dave Penney, Managing Director of Chiltern Railways, said:
"Rail is a vital part of Britain's economy, and this plan will help to unlock a better, more modern railway that will benefit customers, businesses and communities now and for the years ahead. Over the next 18 months alone, our investment plans will mean more trains, running more punctually, with value-for-money tickets that are easier to buy and use, and better information at people's fingertips when things do go wrong.
"A growing railway means more jobs and we are improving the ways in which we can recruit skilled and talented people to deliver the safe, friendly and efficient service our customers demand."
Nick Crossfield, Managing Director, Alstom UK & Ireland, said:
"This important new plan from RDG sets out the industry's commitment to delivering a better railway. Our investment in new facilities like Alstom's in Widnes deliver improved trains, along with high quality jobs and economic benefits for local communities."
Russell Mears, Senior Advisor, Freightliner, said:
"By moving millions of tonnes of freight every year, the railway gets British goods to market, it keeps lorries off the road and the air cleaner. By coming together with a plan to change and improve the railway, the rail industry is today committing to do even more for the economy, businesses and communities across the country, now and for the generations ahead."
Gordon Wakeford, Industry Chair of the Rail Supply Group, said:
"Companies in the rail supply chain are committed to innovating and investing to support the delivery of this ambitious plan to change and improve the railway. The unprecedented investment in new trains and digital technology set out in this plan offers the prospect of more, high skilled rail jobs in communities up and down the country."
Darren Caplan, Chief Executive of the Railway Industry Association said:
"The Railway Industry Association welcomes the launch of the RDG's 'One Plan' today. The rail industry plan seeks to secure almost £85bn of economic benefits, boosting both the UK economy and its connectivity. And it will result in an even better service for passengers and freight, and ultimately even better value for the taxpayer too.
"We urge everyone in rail to get behind this campaign!"
About the Rail Delivery Group
The Rail Delivery Group exists to enable a better railway by bringing together train operators, freight operators and Network Rail, it also recently established a partnership with the Rail Supply Group.