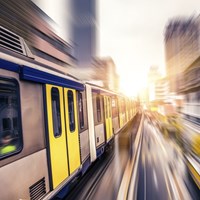 The figures are part of new analysis from the Rail Delivery Group (RDG), which represents train operators and Network Rail. Train orders over the last 12 months means that passengers will benefit by 5,718 new carriages – part of deals worth at least £11.6bn - by the end of 2020, the highest sustained rate for more than 50 years.
The new carriages are part of the wider Railway Upgrade Plan which will see rail companies delivering over £50bn of improvements over the next five years. It is estimated that the new trains will increase the total number of carriages on Britain's railway from 12,968 to 14,966 in just three years alone.
The brand new trains will bring faster, better journeys to every region of the country, with features designed to enhance passengers' journeys:
All new trains will have:
Faster acceleration, and a more comfortable, quieter ride
Air conditioning or climate control as standard
Wi-Fi connectivity as standard
Better lighting to suit the time of day or the season
Accessibility improvements to cater for passengers in wheelchairs
Better passenger information displays: information on connections at interchanges and disruption, and the potential for real-time information on train loading and seat availability
Technology that picks up on faults and beams this information back to maintenance depots while the train is moving, so that faults can be avoided and fixed, helping to cut delays.
On long-distance trains:
A traffic-light reservation system that makes seat availability clearer
Power sockets for every seat
More overhead luggage space
Greater comfort and better leg-room
At seat power points and USB ports for powering laptops and smart devices
Rail passenger numbers have doubled over the last 20 years. The resulting increase in revenue, combined with the more efficient running of the railway, means the network now virtually covers its day to day costs, helping to sustain investment in improvements.
Paul Plummer, RDG chief executive, said:
"The trains that Britain's rail companies are already introducing will represent a step-change in our passengers' experiences. Each train will be better connected, more comfortable and far more advanced in the technology it uses as part of our plan to build a better railway.
"People either love or hate the more iconic trains from the 1970s and 1980s. But fare-payers want a travelling environment that meets the demands of the 21st century, and so many of our older trains are being gracefully retired. The new generation of rolling stock that we're introducing embraces technology to ensure passenger journeys are as reliable as possible and truly connected like never before."
About Rail Delivery Group
The purpose of the Rail Delivery Group (RDG) is to enable passenger and freight operators and Network Rail to succeed by delivering better services for their customers. This ultimately benefits taxpayers and the economy.