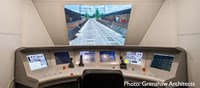 Unipart Rail is a member of a partnership between the rail supply industry and a consortium of eight universities which has secured £92 million to fund research aimed at establishing the UK as a world-leading centre of railway excellence.
The partnership – part of the newly created UK Railway Research and Innovation Network (UKRRIN) - has won £28.1 million funding from the UK Research Partnership Investment Fund (UKRPIF) managed by the Higher Education Funding Council for England (HEFCE). It follows a bid successfully led by the University of Birmingham. The funding will be boosted by £64 million of support from 17 industrial partners also including Alstom, Siemens and Bombardier Transportation.
The UKRPIF funding will be used to create three linked world-class centres of excellence, forming the research heart of UKRRIN, which will focus on:
Digital Systems - located at the University of Birmingham. It will focus on railway control and simulation, data integration and cybersecurity, condition monitoring and sensing, and improved methods for technology introduction.
Rolling Stock - led by the University of Huddersfield in collaboration with the University of Newcastle and Loughborough University. It will focus on high value rolling stock systems, whole life asset optimisation and through-life management, and energy management.
Infrastructure - led by the University of Southampton in collaboration with the University of Sheffield, Loughborough University, the University of Nottingham and Heriot-Watt University.
Universities and Science Minister Jo Johnson said:
"The UK's world-renowned leadership in science, research and innovation is helping to solve a range of national and global challenges, and the breadth of the projects funded today means this will continue.
"Through our Industrial Strategy and £4.7 billion investment for research and development, we're ensuring we capitalise on the great work taking place in universities across the UK and remain at the forefront of innovation."
Dr Stephen Ingleton, Unipart Rail Engineering Director added "It is only though being an active member of the research community that we can drive the changes that are needed to meet the pressing needs of the rail industry. Our involvement will ensure that Unipart Rail's portfolio and capabilities continues to be at the forefront of rail innovation."
About Unipart Rail
Unipart Rail is a supply partner to some of the world's best-known names. Our partners know us to be expert in the services we provide – giving them the confidence to pursue their business objectives, while we support them with bespoke solutions.
As our solutions are drawn from a portfolio of skills, delivered by over 800 expert practitioners in their fields, we craft unique services that dovetail perfectly with our customers. As part of the Unipart Group, with a turnover of £1bn, we support a large number of clients from blue chip companies to specialist suppliers.