Rail Infrastructure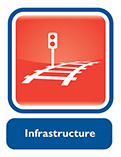 We know rail infrastructure. With long experience in Signalling, Level Crossings, P-way, Overhead line, Cable, and all the other infrastructure disciplines, you can trust us to help you make your business the best it can be. Whether you're a turn-key contractor or a specialist installer, we have a service that can help you.
We understand the regulatory environment, the high standards the industry needs to achieve, and with a strong emphasis on safety, we can help you deliver to your customers with confidence.
That's why we are partners to some of the world's biggest names, and why they trust us to do what we do best, so they can focus on their own challenges.
Our experience in the industry, coupled with a desire to find solutions, means that we are always developing new approaches for our partners. Like the OLE Assembly and Logistics Service, or the Offsite Factory for Level Crossings, which both reduce the installation time and complexity for our partners trackside, as well as minimising stocking and requirements for trackside stores
Overhead Line Equipment
We know that overhead line is a complex part of any project - whether it's new installations, regular maintenance or a complete upgrade.
We also know that you face a host of other problems like space for stores, managing the suppliers, and simply ensuring that the right parts are where you need them, when you need them.
This is why we've set-up a dedicated team of Technical, Procurement, Contracts and Customer Service experts to manage your OLE requirements - start to finish. And they've all been trained to OLEC1 so understand not just your logistics problems, but also the technical principles of your OLE needs.
In addition, we are able to offer a range of propositions including pre-assembly of Series 2 Cantilevers, a range of OLE Materials pre-kitted to your exact project requirements.
Products are just the start of our service - but they are at the heart of it. The OLE range covers:
Series 2 Cantilevers
Bonding Clamps & Brackets
Droppers
Earthing
Fasteners
Foundation Components
Insulators
Neutral Section
Section Insulators
Isolation
Pipes and Tubes
Power & Transformers
Large & Small Part Steel
Support & Registration
Switches
Wedges
Splices
Keys & Locks
Tools & Consumables
Our Supply Chain expertise means that we will use our existing and new relationships with suppliers to ensure that all your materials are ready for when you need them.
Cables and Accesories
Unipart Rail and Eland Cables, operating as a JV, offer most comprehensive Network Rail approved cable and overhead line portfolios in the industry - covering everything from Signalling, Power and Telecommunications Cable to Overhead Lines
Our extensive range of rail cables and accessories for stations and trackside locations include:
Rail Signalling Cables
MV Power Cables
Rail Telecom Cables
SWA Cables
Trackfeeder Cables
Points Heating Cables
Screening Conductor Cables
Traction and Rolling Stock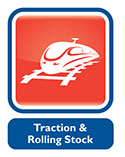 Using Unipart Rail as a single supplier for all the rail components and products required for maintenance or refurbishment work reduces the number of different deliveries coming to site and the order processing is also much simpler. We can also provide kits of equipment so that all the materials for a job arrive on one pallet.
To help even more we can schedule the delivery of materials in line with work programmes, provide off- site buffer stocks and forecast future demand patterns to ensure products are available when required.
The range of products for Traction and Rolling Stock (T&RS) available includes interior and exterior components, consumable components, heavy engineering and workshop products. The main categories of products include:
Bogie Sub-components
Brake Modules & Components
Train Connections
Traction Systems
Door Systems
Seating, Tables, Toilet modules and Lighting
Glazing & Wipers
TPWS and Train Protection
Engines and components
Heating & Cooling
Power and Contractor Equipment