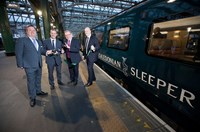 Serco Caledonian Sleeper has launched its new £150m fleet – with the first guests travelling on the revitalised overnight rail service.
The new carriages made their debut last night (Sunday 28 April) on the Lowlander route between London and Glasgow/Edinburgh. This will be followed by their introduction on the Highlander route between London and Aberdeen, Inverness and Fort William in the coming weeks.
Designed to accommodate the modern-day traveller, the new trains offer accommodation ranging from completely new comfort seats for the budget traveller to rooms with double beds and en-suites – for the first time in the history of Caledonian Sleeper. Accommodation includes:
Completely new redesigned comfort seats with personal locker, reading light and charging point

Classic Rooms (solo or shared use with an option of interconnecting rooms, toiletries included)

Club Rooms (solo or shared use with en-suite, station lounge access, breakfast, luxury toiletries included)

Caledonian Double (double bed with en-suite, station lounge access, breakfast, luxury toiletries included)

Accessible Rooms (double or twin, toiletries included and directly adjacent to accessible toilet)
Combining travel to and from the heart of London with comfortable overnight accommodation, prices for Comfort Seats start from £45, Classic Rooms from £140 for Solo or £170 for two people sharing (equating to £85 per person), Club Rooms from £205 for Solo and £250 for Shared and Caledonian Doubles from £335 for Solo and £400 for Shared.
All Accessible Rooms are priced at the same level as Classic Rooms – including those with double beds. Caledonian Sleeper has engaged extensively with experts from The Shaw Trust to ensure the best possible experience for guests with access needs, including placing accessible toilets adjacent to accessible rooms. In addition, Caledonian Sleeper's Guest Lounges in Dundee, Fort William, Leuchars, Perth, Stirling and Inverness all offer accessible shower facilities.
Other new features are included on the new trains, such as a hotel-style keycard entry system, charging panels and WiFi throughout the train.
In addition to introducing its new fleet, Caledonian Sleeper has also launched a new marketing campaign which will inspire potential guests to 'Dream Big'. Debuting across digital, social and outdoor advertising platforms, it is designed to encourage a new audience to discover Caledonian Sleeper and the world of possibilities it unlocks.
About Serco

Serco Group plc's roots go back to 1929, becoming Serco Limited in 1987 and in 1988 was listed on the London Stock Exchange. Now, Serco is a FTSE top 250 company managing over 500 contracts worldwide. Employing over 50,000 people, we operate internationally across four geographies: UK & Europe, North America, Asia Pacific and the Middle East and across five sectors: Defence, Justice & Immigration, Transport, Health and Citizen Services.