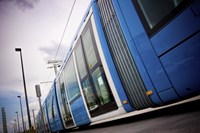 Serco, the international service company, announced today a 3-year contract extension by Emaar Properties to continue managing the operations and maintenance of the Downtown Dubai Trolley System until 2019.
Serco's participation in the project began in August 2014 when engaged by Emaar Properties under an early operator involvement contract, giving advice on the system during the design phase.
David J Greer, CEO Serco Middle East said "This award asserts our position as the region's leading provider of high quality transport operations and maintenance services. The trolley is the first of its type in the Middle East and we are delighted to extend our partnership with Emaar and to continue to deliver the highest quality of service to the public."
Serco's Transport MD, Patrick Hallgate added, "This extension is testament to the hard work and dedication of the team and is a result of the strong relationship Serco and Emaar have built over the last 2 years."
The initial operation and maintenance contract was awarded to Serco in 2015 and has now been extended until 2019. This reinforces the strength of Serco's services portfolio delivering a fully integrated transport approach for the 500-acre Downtown Dubai mega-development.
About Serco
Serco is a leading provider of public services. Our customers are governments or others operating in the public sector. We gain scale, expertise and diversification by operating internationally across five sectors and four geographies: Defence, Justice & Immigration, Transport, Health and Citizen Services, delivered in UK & Europe, North America, Asia Pacific and the Middle East.