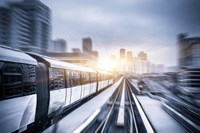 Today, Stadler is celebrating the handover of the 1000th FLIRT (Fast Light Innovative Regional Train) train. The 1000th Stadler FLIRT is a 4-car broad-gauge vehicle for Finnish customer Junakalusto Oy. A small ceremony has marked the delivery of the landmark FLIRT at the VR Ilmala depot in Helsinki. The very first FLIRT was delivered to SBB in autumn 2004.
In autumn 2006, Junakalusto Oy ordered a first series of 32 FLIRT multiple-unit trains for the Helsinki suburban train network. Meanwhile, the fleet has grown to 81 trains, and connects Helsinki city centre and the airport on the newly opened route. It is an honour for Stadler to hand over the 1000th FLIRT in person during a small ceremony – 10 years after the contract was signed. At the VR Ilmala depot in Helsinki, Peter Jenelten, Executive Vice President Marketing & Sales at Stadler, handed over the train to Yrjö Judström, Managing Director of Junakalusto Oy, in the presence of Swiss Ambassador Maurice Darier and other invited guests.
The FLIRT is a success story. Since it was first delivered to its first buyer, SBB, in autumn 2004, 1000 FLIRT trains have been developed, built and commissioned. The vehicles are operating successfully in various climate zones – from Africa to the Arctic Circle – on normal and broad gauges. The best-selling FLIRT vehicle has already sold 1339 units in a total of 15 countries.
Many rail operators have been convinced by the FLIRT's enticing combination of intelligent, innovative design and tried and tested technology. Time and again, Stadler succeeds in fulfilling a range of different requirements: more cost-effective, lower maintenance and more environmentally friendly operation for rail operators, and guaranteed reliable connections with high levels of comfort for travellers. The FLIRT is available as a regional train with a maximum speed of up to 160 km/h, and as an intercity train with a maximum speed of up to 200 km/h. Depending on the space required, it is available as 2- to 8-car train compositions.
About Stadler Rail Group
Stadler has been building trains for 75 years. The system provider of rail vehicle construction solutions is headquartered in Bussnang in Eastern Switzerland, and has a workforce of around 7000 based in various locations across Switzerland, Germany, Spain, Poland, Hungary, the Czech Republic, Italy, Austria, the Netherlands, Belarus, Algeria, Australia and the United States. Stadler provides a comprehensive range of products in the railway and commuter rail segments: high-speed trains, intercity trains, regional and commuter rail trains, underground trains, tram trains and trams. Furthermore, Stadler also manufactures main-line dual-mode locomotives, shunting locomotives and passenger carriages, including the most powerful diesel-electric locomotive in Europe. Stadler remains the world's leading manufacturer in the rackand-pinion rail vehicle industry. Additionally, Stadler Service maintains in 16 countries vehicle fleets consisting of over 680 vehicles that cover a combined annual distance of 110 million kilometres.
This year, Stadler will once again be at InnoTrans, the world's largest trade fair for transport technology, which takes place in Berlin from 20 to 23 September 2016. The Swiss system provider for rail vehicle construction solutions will be presenting six different vehicles and will demonstrate its comprehensive range of services at its own stand. Among other highlights, Stadler will be showcasing a world premiere: the EC250, the first mass-produced low-floor high-speed multiple unit train. It's definitely worth a visit.