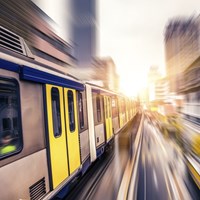 Today, Erik Røhne, chairman of NSB Gjøvikbanen, and Jürg Gygax, Executive Vice President of Stadler, signed a maintenance contract for ten FLIRT trains for a period of three years. For Stadler, this is the first maintenance contract for the FLIRT fleet in Norway. The existing maintenance facility "Lodalen" in Oslo will be adapted for maintenance on the FLIRT Gjøvikbanen fleet.
Starting 1st January 2018, Stadler will perform first line maintenance for ten FLIRT of NSB Gjøvikbanen. NSB Gjøvikbanen is a daughter company of the state owned operator NSB (Norges Statsbaner). In 2008 NSB had purchased the first 50 FLIRT at Stadler and will expand their fleet to 125 trains until 2020, which makes the NSB fleet one of the biggest FLIRT fleets of Stadler. These trains are specially designed to cope with Norwegian winter conditions with temperatures as low as -40° Celsius. Stadler was able to win the maintenance contract for the ten FLIRT operated by NSB Gjøvikbanen through public procurement processes and will undertake the maintenance until the end of 2020, with the option to extend the duration of maintenance.
The maintenance package will be modelled after MTR Express in Sweden, where Stadler is responsible for full service maintenance and has delivered an availability of 100% during daily peak times over the last two years. The first line maintenance, for which Stadler will be responsible, includes preventive and corrective maintenance. The maintenance, for which Stadler will employ local maintenance experts, will be performed in the newly adapted facility "Lodalen", which is located close to the city centre of Oslo.
This first maintenance contract for FLIRT in Norway is of great value to Stadler, since it enables Stadler to expand its service market presence. Stadler already performs full service for bybanen's light rail fleet in Bergen and has in its Service Region Nordic additional service sites such as Stockholm (SE), Tillberga (SE), and Aarhus (DK).
Jürg Gygax, Executive Vice President of Stadler responsibe for the Division Service added: "We are very happy that we have succeeded in this tender. This is another important milestone in our future focus markets Norway and the Nordic Region, with the contract we are proud to deliver a great availability. I am looking forward to start soon together with NSB Gjøvikbanen and to perform excellent service to the passengers."
About Stadler

Stadler has been building trains for 75 years. The system provider of rail vehicle construction solutions is headquartered in Bussnang in Eastern Switzerland, and has a workforce of around 7000 based in various locations across Switzerland, Germany, Spain, Poland, Hungary, the Czech Republic, Italy, Austria, the Netherlands, Belarus, Algeria, Australia, and the United States. Stadler provides a comprehensive range of products in the commuter rail and railway segments: trams, tram trains, underground trains, regional and commuter rail trains, intercity trains, and high-speed trains. In addition, Stadler manufactures main-line dual-mode locomotives, shunting locomotives, and passenger cars, including the most powerful dieselelectric locomotive in Europe. Stadler remains the world's leading manufacturer in the rack-and-pinion rail vehicle industry. Additionally, Stadler Service maintains 16 vehicle fleets made up of over 300 vehicles that cover a combined annual distance of 72 million kilometers.