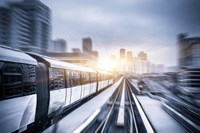 On 18 July 2017, the Dutch public transport company Syntus awarded Stadler the contract for the maintenance of 16 Stadler FLIRT. The service contract has a term of 15 years. For vehicle maintenance, Stadler is investing in a new depot in Hengelo.
Stadler will be responsible for the maintenance of 16 Stadler FLIRT railway vehicles from 2017 to 2032. The Dutch public transport company Syntus ordered the FLIRT electrical low-floor multiple units from Stadler in January 2016. The vehicles are currently being tested between Amersfoort and Zwolle, and will operate in regional transport on the line that runs between Zwolle and Kampen/Enschede. Commercial operation will begin in December 2017. At this point, Stadler Service Netherlands will take over every aspect of maintenance.
In order to ensure high availability of the vehicle fleet throughout the entire year, Stadler is building a new depot in Hengelo where they will employ a five-person staff. All of the maintenance will be performed by Stadler employees who are familiar with the vehicles and can ensure that the work is completed quickly and cost-effectively. With this new location, Stadler is continuing to expand its service activities in the Netherlands.
The nine 3-car and seven 4-car 1.5 kV FLIRT multiple units for Syntus offer exceptional comfort thanks to pneumatic suspension, an inviting seating arrangement and the HVAC system. The vehicles can reach a top speed of 160 km/h. The FLIRT is a tried and tested, modern and efficient train for successful deployment in public transport.
About Stadler
Stadler has been building trains for 75 years. The system provider of rail vehicle construction solutions is headquartered in Bussnang in Eastern Switzerland, and has a workforce of over 7000 based in various locations across Switzerland, Germany, Spain, Poland, Hungary, the Czech Republic, Italy, Austria, the Netherlands, Belarus, Algeria, UK and the United States. Stadler provides a comprehensive range of products in the heavy and urban transport segments: High-speed trains, intercity trains, regional and commuter rail trains, underground trains, tram trains and trams. Furthermore, Stadler also manufactures main-line locomotives, shunting locomotives and passenger carriages, including the most powerful dieselelectric locomotive in Europe. Stadler is the world's leading manufacturer in the rack-and-pinion rail vehicle industry.