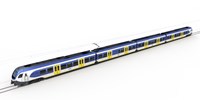 Stadler Rail has won an order of Dutch State Railways (NS) for 58 FLIRT trains. The trains will already be delivered at the end of 2016. This sees Stadler demonstrate an unparalleled degree of flexibility once again: in recent years, no other company has managed to process so many contracts of this type, with such short delivery times, on schedule. The trains will be used in the commuter and regional transport systems nationwide. The order volume amounts to approximately EUR 280 million. This represents Stadler's first order from NS.
The particular feature of this order is the very short delivery deadlines for such a large number of vehicles. In rail vehicle construction, the lengthy lead time means that in most cases, production can only begin one to two years after an order has been received. This is because many components have to be purchased and include delivery deadlines of up to one year. Furthermore, engineering also has to construct the vehicle before any orders can be released.
Peter Spuhler, owner and CEO of Stadler Rail Group, is very proud of this recent success: "This order increases the number of FLIRT trains sold to 1,094. Once again, we have been able to demonstrate that we are in a position to guarantee very short delivery times." Stadler Rail has processed a high number of orders from its bases in Switzerland in recent years, always meeting the deadlines. This includes, for example, the order for 50 FLIRT trains from Norwegian State Railways (NSB). The successful execution of this order has already triggered follow-up orders for 31 additional trains, which has seen Stadler set an unparalleled standard in Europe.
Low energy consumption
The 58 electric FLIRT trains include 33 three-carriage and 25 four-carriage trains. As with all FLIRT trains, they also include the following features as standard: spacious, transparent interior design, large multi-purpose spaces in the entrance areas and vehicle bodies made from lightweight aluminium, leading to significantly lower energy consumption and thus also substantially lower energy costs. Each train is equipped with an accessible toilet and is prepared for the modern European Train Control System (ETCS). The latest crash fronts ensure a very high level of passive safety for passengers, for example in the case of an accident at a railway crossing.
The four-carriage trains are equipped with 32 seats in first class, 170 seats in second class, 12 tip-up seats and 26 handholds; the three-carriage trains have 32 seats in first class, 114 in second class, 12 tip-up seats and 20 handrails. The trains have a maximum speed of 160 km/h.
About Stadler Rail
The railway vehicle industry is in a dynamic, highly complex restructuring phase. Companies active in our industry are being acquired, merged or strategically repositioned. In some cases they are vanishing altogether from the market. In such an economic environment, it is crucial for a medium-sized group of companies to ensure that its strategy matches its human and financial resources. Over the past few years, Stadler has met this goal, even achieving exceptional development despite the negative trend prevailing in our industry.
The Swiss Stadler Rail Group, with its eight sites in Bussnang, Altenrhein, Winterthur (Switzerland), Berlin (Germany), Siedlce (Poland), Pusztaszabolcs, Szolnok (Hungary) and Algiers (Algeria), is focussing on the regional and suburban service market segments, the light regional express railway service, streetcars and intends to remain the global Number One in the rack railway vehicle market. Stadler Rail has positioned itself as a supplier complementing the global rail vehicle builders such as Alstom, Bombardier, and Siemens. Our independence is an important basic strategic value for us.
In the past few years, we have closed the last existing production gaps by selectively expanding into the areas of electrical engineering and bogie (truck) construction. In doing so, we are now able to offer complete vehicle concepts. Unlike the large suppliers, we do not pursue any platform strategies with clearly defined products in clearly defined market segments. Rather, we offer customised solutions to railway companies on the basis of modular concepts which are tailored to their specific needs.