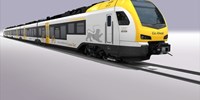 Go-Ahead Verkehrsgesellschaft Deutschland GmbH orders 45 FLIRT3
multiple units for the Stuttgart Network
The trains will begin operation in Baden-Württemberg from mid-2019
At the end of April, Stadler Pankow GmbH and Go-Ahead Verkehrsgesellschaft Deutschland GmbH signed a contract for the delivery of 45 electric multiple-unit trains for the Stuttgart Network 1, Lot 2 (Rems–Fils) and Lot 3 (Franken–Enz).
The order involves the delivery of 11 three-car and 15 five-car FLIRT3 EMU vehicles for Lot 2, along with 9 four-car and 10 six-car FLIRT3 EMU vehicles for Lot 3.
"We are pleased that our new business partner has decided to place their trust in us, and we look forward to working together in the future," says Ulf Braker, Managing Director of Stadler Pankow GmbH.
Go-Ahead Verkehrsgesellschaft Deutschland GmbH was established in Berlin in 2014 and is a subsidiary of the UK-based Go-Ahead Group. Sustainability and safety are the company's main tenets. Go-Ahead Verkehrsgesellschaft Deutschland GmbH initiated a call for tenders throughout Europe for trains to be operated on the Stuttgart Network 1. From June 2019, Go-Ahead will operate the trains on the network spanning 3.7 million vehicle kilometres for Lot 2 and 4.4 million vehicle kilometres for Lot 3. "We are greatly looking forward to working together with our partner, Stadler, to provide our passengers with a safe and comfortable travelling experience. Creating long-term partnerships in and for the region is an integral component of our company philosophy," says Stefan Krispin, Managing Director of Go-Ahead Verkehrsgesellschaft Deutschland GmbH.
A modern fleet for a mobile future
After the timetable change in June 2019, the vehicle fleet will operate on the following routes: Stuttgart–Aalen–Crailsheim, Stuttgart–Ulm, Stuttgart–Aalen, Stuttgart–NBS S-MA–Pforzheim–Karlsruhe, and Stuttgart–Heilbronn–Osterburken–Lauda–Würzburg. Once the Stuttgart 21 rail project is complete, the vehicles will also stop at this station, thereby helping to connect the routes and enabling passengers to travel through the area without changing trains.
All of the FLIRT3 trains that will be operated on the Stuttgart Network 1 will be equipped in accordance with TSI SRT and fire protection category B. Further, the vehicles in Lot 3 will also be outfitted with an additional train security system (LZB) and will be equipped for installation of the ETCS Level 2 train security system at a later date.
The 3- to 6-car FLIRT vehicles feature high drive performance and can reach a maximum speed of 160 km/h.
The bright, welcoming passenger area is barrier-free and has low floors throughout. The spacious entrance areas are equipped with gap bridging and sliding steps. There are first-class areas at both ends of each composition with 10 seats in each. The seating in the second-class areas ranges from 165 seats in 3-car trains to 217 seats in 4-car trains, 273 seats in 5-car trains, all the way up to 329 seats in 6-car trains. All of the vehicle models are outfitted with WC cabins according to TSI PRM, and the 4-, 5- and 6-car vehicles have two WCs per vehicle. Furthermore, the large multi-purpose areas offer space for passengers to transport bicycles, bulky luggage or pushchairs. The modern design also includes a state-of-the-art passenger information system, as well as on-board passenger WLAN. The interior and exterior design of all of the vehicles features the 3-Löwen-Takt logo of the Baden-Württemberg regional transport company, with its iconic three lions.
About Stadler Rail Group
Stadler has been building trains for over 75 years. The system provider of rail vehicle construction solutions is headquartered in Bussnang in Eastern Switzerland, and has a workforce of around 7000 based in various locations across Switzerland, Germany, Spain, Poland, Hungary, the Czech Republic, Italy, Austria, the Netherlands, Belarus, Algeria, Australia and the United States. Stadler provides a comprehensive range of products in the commuter rail and railway segments: trams, tram trains, underground trains, regional and commuter rail trains, intercity trains and high-speed trains. In addition, Stadler manufactures main-line dual-mode locomotives, shunting locomotives and passenger carriages, including the most powerful diesel-electric locomotive in Europe. Stadler remains the world's leading manufacturer in the rack-and-pinion rail vehicle industry.