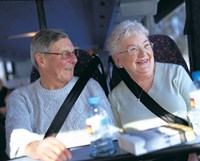 £2.8 million investment in 30 new minibuses for Ashford
Vehicles to operate up to every five minutes, providing a 'little & often service'
Contactless payments, Apple Pay and Android Pay accepted on new minibuses
New 'turn-up-and-go' service – the only of its kind in the UK – starts on 12 February
Britain's biggest bus operator, Stagecoach, is to pilot an innovative, high frequency transport solution.
The company has invested almost £3million in a fleet of 30 Mercedes vehicles which will go into service in Ashford, Kent, from 12 February, delivering a brand new 'turn-up-and-go' travel product for local people.
The innovative new service represents the only one of its kind currently available in the UK and on some routes will boost the frequency from three to 12 buses an hour. If the pilot is successful, the service may be rolled out elsewhere in the UK.
The new, smaller 17-seat vehicles will operate to extremely high frequency levels, offering journeys up to every five minutes from 6am until 11pm seven days a week.
Branded 'Little & Often', the service marks a new approach to modern bus travel and Stagecoach believes it will deliver a more intuitive and convenient service for customers.
In a further boost for customers, the new service will accept contactless payments made with debit and credit cards, as well as Apple Pay and Android Pay.
The new high-specification vehicles will all have Euro 6 engines, among the cleanest available. The interior features comfortable high-back e-leather seats.
The 'Little and Often' network will deliver fast connections around Ashford and will benefit commuters as well as leisure travellers. The service will provide comprehensive links to Ashford Station which has a high speed train service into Central London, meaning commuters based in the town will be able to use public transport for all parts of their journey.
Stagecoach UK Bus Managing Director Robert Montgomery said: "This is an exciting new travel option for customers and once again demonstrates our commitment to innovation and trying different things to help deliver even better services for passengers.
"We know convenience is key in modern-day life. None of us want to wait longer than we have to for anything – this new 'turn-up-and-go' product will free up more time for customers and provide them with the reassurance that there will always be another bus along in a matter of minutes."
This is the latest in a series of investments made by Stagecoach in transforming bus travel for customers, including:
The new 'Stagecoach Bus' smartphone app which provides customers with journey planning, next-stop information and live bus tracking, and enables people to buy and download bus tickets straight to their mobile phone.
Smart ticketing at all Stagecoach regional companies with more than two million StagecoachSmart cards in circulation and more than 330million smart transactions every year.
Multi-operator smart ticketing in all of England's city regions, benefitting around 15million people, and in several key areas of Scotland, delivered in partnership with other UK bus operators.
Contactless payments launched on Stagecoach services in Oxfordshire and the north east of England, with the technology to be available at all Stagecoach bus companies by 2018.
A commitment to work with the UK's major bus operators on an ambitious scheme that could see contactless travel introduced on every one of the UK's 32,000-plus buses outside London by 2022.
More than £1billion spent on new buses and coaches for the UK in the last 10 years.
Stagecoach Group
Stagecoach Group is an international public transport group, with extensive operations in the UK, the United States and Canada. The Group employs around 40,000 people, and operates around 13,000 buses, coaches, trains and trams.