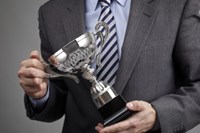 Stagecoach has been named Bus Operator of the Year at the 2017 London Transport Awards.
The Group's East London bus business was honoured last night (Thursday 2 March) at the 14th annual ceremony in London.
The awards are supported by Transport for London, London Councils, London Travel Watch and London First and recognise excellence in transport and reward innovation and progress for transport initiatives which are really working in London.
Stagecoach London's East London Bus and Coach Company – which covers Barking, Bow, Leyton, Romford and West Ham garages – was recognised as the best of the larger operators for mechanical lost mileage, at 0.13% compared with the network average of 0.34%. It was also the second best of the five shortlisted companies for driving standards. The company also received the fewest customer complaints per 100,000 passenger journeys of the five operators and the second fewest reliability complaints.
The company's South East London Bus Company was also shortlisted in the same category.
Two Stagecoach London employees were also shortlisted for awards. Drivers Danny Petrie, from Romford Garage, and Dave Waller from Leyton Garage, were named as finalists for the Frontline Employee of the Year Award. Both were nominated for remaining calm and assisting during emergency situations while carrying out their driving duties.
Stagecoach London Managing Director Mark Threapleton said: "I am thrilled that the hard work of our frontline employees and management teams at our garages has been recognised in this way. I'd also like to congratulate Danny and Dave on their shortlisted nominations.
"To win and have a shortlisted finalist in the Bus Operator of the Year category is a fantastic achievement and it is testament to the efforts of our staff who deliver consistently high-quality services and good customer service, often in challenging conditions, to the millions of people who rely on our buses every week."
Mike Brown MVO, Transport Commissioner, Transport for London said in his keynote address: "The London Transport Awards are pivotal in recognising the talent, energy and drive that our city's transport professionals devote to delivering millions of safe journeys every day. This is a huge challenge to meet - the Capital is growing at a phenomenal rate. Record numbers of customers and users rely on our public transport and road networks to get around the city every day. Everyone working in transport – whether planning the services, building the routes, repairing the trains or pulling together the customer information – has a role to play in ensuring London thrives. The London Transport Awards recognise and celebrate these efforts, right across the Capital."
Stagecoach Group
Stagecoach Group is an international public transport group, with extensive operations in the UK, the United States and Canada. The Group employs around 40,000 people, and operates around 13,000 buses, coaches, trains and trams.