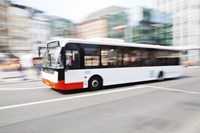 Millions of Stagecoach passengers now have access to contactless bus travel as Britain's biggest bus operator continues to roll-out the technology across the UK.
Seven Stagecoach companies – with a combined fleet of more than 3,000 buses and 360 million customer journeys a year – now offer customers the convenient payment technology.
The £12million programme, which was launched last October, allows passengers to pay for their travel with a contactless credit or debit card, as well as Apple Pay and Android Pay.
It is the first major deployment of contactless technology on Britain's buses outside London and will benefit customers across England, Scotland and Wales. Stagecoach has added Scottish Citylink to an expanded national roll-out programme which will see the technology installed on all of the company's 8,500 buses across the UK by early 2019.
Contactless payments are already available at Stagecoach Manchester & Wigan, Stagecoach Merseyside and South Lancashire, Stagecoach North East, Stagecoach Oxfordshire, Stagecoach South East, Stagecoach South and Stagecoach Yorkshire.
Stagecoach UK Bus Managing Director for England and Wales, Mark Threapleton said: "We now have the largest contactless payments scheme outside London, with thousands of payments being made using contactless technology on our buses every week.
"Along with traditional cash payments, our StagecoachSmart card and mobile ticketing through our Stagecoach Bus smartphone app, we are giving customers choice about how they want to buy their travel and making it even easier and more convenient to travel by bus. We look forward to introducing this technology to the rest of our passengers in the UK in the coming months."
Contactless technology – which involves customers using their debit or credit card, or any other contactless device, to make a 'wave and pay' payment rather than a pin number – was introduced in the UK in 2007. Now almost six in 10 Britons use contactless payments for transactions of up to £30.
Stagecoach is also working with other major bus operators - First Bus, Go-Ahead, Arriva and National Express - on a major project to have EMV contactless technology installed on every one of the UK's 32,000-plus buses outside London. The project would cover more than 1,200 bus operators in England, Scotland and Wales, and make contactless travel available for 5.2 billion bus passenger journeys a year across Britain. Associated government legislation would be needed to ensure contactless ticketing was offered by all individual bus operators.
Last year, major operators completed the introduction of smart multi-operator bus ticketing in all nine of England's smart city regions with support from local transport authorities. Passengers can travel seamlessly between operators in Greater Manchester, Merseyside, Tyne and Wear, West Midlands, South and West Yorkshire, as well as Nottingham, Leicester and Bristol, making public transport more accessible in regions which account for around 15 million people - over a quarter of England's population.
A similar project is now underway to deliver the same benefits to Scotland's major cities. Multi-operator schemes are already live in Aberdeen and Dundee, with Glasgow and Edinburgh to follow.
Stagecoach also offers the Stagecoach Bus' smartphone app which provides customers with journey planning, next-stop information and live bus tracking, and enables people to buy and download bus tickets straight to their mobile phone.
In addition, smart ticketing at all Stagecoach regional companies with more than two million StagecoachSmart cards in circulation and more than 330million smart transactions every year.
Stagecoach Group
Stagecoach Group is an international public transport group, with extensive operations in the UK, the United States and Canada. The Group employs around 40,000 people, and operates around 13,000 buses, coaches, trains and trams.