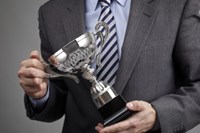 Stagecoach has been recognised with two top honours at the 2017 UK Coach Awards.
The transport group's East Scotland business was awarded the Express Operation of the Year accolade at the 9th annual event held in Manchester on Thursday 4th May for the third year in a row with its Express City Connect network which operates across central Scotland.
In addition, Oxford Tube driver Gavin Francis was named Top UK Express Driver after gaining praise for his friendly, engaging, patient and reassuring approach with passengers and for his ability to train and mentor new drivers.
Stagecoach's Oxford Tube service won the silver award in Express Operation of the Year category while Stagecoach East Scotland picked up the silver award in the Coach Marketing Award category and Stagecoach South West scooped the bronze award in the Making Coaches a Better Choice category for its Falcon service.
Stagecoach East Scotland's Express City Connect network operates high-quality coach services across Fife and into Edinburgh, Perth, Dundee, Aberdeen and Glasgow. Facilities such as leather seats, on board toilets, power sockets, air conditioning, activity packs for kids and free wifi have helped make the services an attractive alternative to the car, achieving increased passenger numbers.
Stagecoach East Scotland Acting General Manager Jon Oakey said: "Winning this award for the third year in a row is down to the hard work of our employees who are at the heart of delivering these services to our customers all year round.
"We are delivering high-quality, reliable journeys on modern vehicles, with free wi-fi and good customer service, to help attract even more people on to greener, smarter transport."
Stagecoach Oxfordshire Managing Director Martin Sutton added: "We're delighted that Gavin has won this prestigious award which he thoroughly deserves. It's also very pleasing for our Oxford Tube service to be recognised in the Express Operation of the Year category. We look forward to delivering even better service for our customers in the future and encouraging even more people to make coach travel their number one choice."
The UK Coach Awards recognises the dedication and professionalism of individuals and operators across the UK coach industry, with awards covering a number categories.
Congratulating all the winners, UK Coach Awards chairman John Gilbert said, "Our customers demand improved quality both in terms of vehicles and staff. We cannot meet these demands without good business organisation and excellent staff, and to retain good staff, we need to recognise and reward them, and this is why I believe this event has a major part to play in recognising leading operators, business innovation, excellent managers, staff and operating crews."
About Stagecoach Group
Stagecoach Group is an international public transport group, with extensive operations in the UK, mainland Europe, the United States and Canada. The Group employs around 39,000 people, and operates around 13,000 buses, coaches, trains and trams.
Stagecoach is one of the UK's biggest bus and coach operators with around 8,500 buses and coaches. The Group's business includes major city bus operations in London, Liverpool, Newcastle, Hull, Manchester, Oxford, Sheffield and Cambridge. Low-cost coach service, megabus.com, operates a network of inter-city services across the UK and continental Europe.
Stagecoach is a major UK rail operator, running the South West Trains, Island Line and East Midlands Trains networks. It has also partnered with Virgin to run the East Coast and West Coast inter-city rail franchises.
Stagecoach operates the Supertram light rail network in Sheffield.
In North America, Stagecoach operates around 2,400 buses and coaches in the United States and Canada. megabus.com directly links over 130 key locations in North America. Stagecoach is also involved in operating commuter, transit, contracted, charter, airport shuttle and sightseeing services.