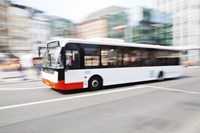 Customers can now pay for bus journeys using contactless credit or debit cards, Apple Pay or Android Pay · Faster boarding, secure payments and no need to carry cash
Manchester customers now have access to similar technology as London bus passengers
Tackling traffic congestion is a vital next step says Stagecoach
Stagecoach Manchester has become the first bus operator in the region to offer customers the option to pay for their travel via contactless payments.
The launch of contactless payments (on 1st March 2017) is part of a £12m UK wide investment by Stagecoach into delivering contactless technology, which will help speed up boarding and mean customers don't need to carry cash to travel. As well as paying via contactless credit and debit cards, customers can also use Apple Pay and Android Pay to buy their ticket from the driver.
The introduction of contactless payments is the latest investment by the local bus operator to improve public transport for local people and means customers in Greater Manchester now have access to many of the same technology solutions as passengers in London, including mobile ticketing, real-time journey information and integrated smart ticketing.
However, Stagecoach has called for urgent action by politicians to tackle traffic congestion, with the latest research showing that Manchester commuters spend an average of 40 hours each year stuck in traffic.*
Managing director of Stagecoach Manchester, Elisabeth Tasker, said: "The introduction of contactless technology is further evidence of the transformation that bus travel is currently undergoing. Ensuring that our customers are receiving the most efficient and hassle free service is our priority at Stagecoach Manchester and this will allow customers to pay for their tickets more easily than ever before.
"However, the delivery of high-quality bus services is a shared responsibility and, although we are investing heavily in customer improvements in the areas we can control, there is one key issue that is holding buses back and damaging air quality and that is traffic congestion. Manchester is now the most congested city in the UK after London* and Public Health England estimates that around 1000 people die every year in Greater Manchester because of increasingly poor air quality.
"Congestion on our roads slows down journeys, pushes up fares, damages public health and undermines the work of operators to deliver improvements and attract more people to bus travel. We need politicians to step up and tackle this growing problem now, to allow our local bus networks to flourish for the many people who rely on them every day."
Stagecoach Manchester has invested over £9m since January 2015 in brand new cleaner, greener vehicles and facilities for local communities plus further investment into a new website and smartphone app which allow customers to receive real –time journey information and mobile ticketing.
*Inrix Traffic Information Survey, February 2017
Stagecoach Group
Stagecoach Group is an international public transport group, with extensive operations in the UK, the United States and Canada. The Group employs around 40,000 people, and operates around 13,000 buses, coaches, trains and trams.