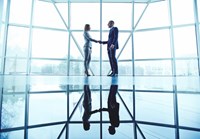 Stagecoach Manchester Managing Director Elisabeth Tasker has been named among the top 50 Northern Power Women.
The Top 50 Power List was revealed at the 2017 Northern Power Women awards held in Manchester on Tuesday night (7 March).
Elisabeth Tasker, who recently took on the role of Stagecoach Manchester Managing Director, is one of the UK bus industry's leading figures. Her inclusion on the list comes as a result of her success over 30 years within the transport industry which is traditionally a largely male-dominated industry.
In particular, Elisabeth was chosen as a Northern Power Woman for her commitment to helping and encouraging others, and her female colleagues in particular, to develop their skills and experienced to further their own careers.
Elisabeth leads by example in the approach she takes to her role and inspires others to take the same approach, giving young managers responsibility while at the same time ensuring they feel supported.
She said: "I'm delighted and quite humbled to be named as a Northern Power Woman. It's certainly not something I ever expected but was a lovely surprise. I enjoy what I do and I hope that this will help shine a light on the important role that women can and should play within the bus industry in the future.
"More than 250,000 jobs are supported, directly and indirectly, through the UK bus industry so there are many opportunities out there for both men and women to have a successful and rewarding career in the transport sector. However, over 90% of people in the bus industry are male and I look forward to seeing that change in the years to come as more women realise what the bus industry can offer them and what they can offer the industry."
Elisabeth is one of two female Managing Directors within Stagecoach's UK Bus division and is one of only a small number of women with such seniority across the whole bus industry.
Stagecoach Manchester and Wigan is Stagecoach Group's largest regional bus company outside London, with 2350 employees, 800 buses and an annual turnover of £70million.
Throughout her career, Elisabeth has held a number of management roles, both in the heavy goods and bus industries. She joined Stagecoach in 2000 as Operations Director with Stagecoach Manchester before being appointed Managing Director of Stagecoach Merseyside and South Lancashire in 2011, a position she held until November 2016.
Stagecoach Group
Stagecoach Group is an international public transport group, with extensive operations in the UK, the United States and Canada. The Group employs around 40,000 people, and operates around 13,000 buses, coaches, trains and trams.