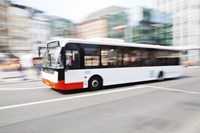 More than 340 new buses and coaches ordered
More than £1billion orders for around 7,000 new vehicles placed over past 11 years
Latest intake of vehicles all meet latest Euro 6 emissions standards and have USB charging points
Innovative emissions-reducing stop-start technology on majority of new buses
Stagecoach Group has announced new vehicle orders worth £70million.
A new fleet of around 340 vehicles, most equipped with free wifi, will be introduced in the coming 2017-18 financial year as the company continues to reinvest profits in improving services for customers in communities across the UK.
The latest announcement takes Stagecoach Group's total orders of new buses and coaches to more than £1billion in the past 11 years, delivering around 7,000 new vehicles for passengers.
The brand new buses and coaches will be introduced in Stagecoach's regional networks in England, Scotland and Wales, as well as on the company's megabus.com network in the UK.
Almost half of the new vehicles meet the Government's Low Carbon Emission Bus specification, while around two thirds feature innovative stop-start technology to help improve fuel consumption and reduce emissions.
Most of the new vehicles are set to be built in the UK, helping to support hundreds of British manufacturing jobs and smaller businesses in the supply chain who produce key components from drivers' seats and toilets to wheelchair lifts and destination displays*. All of the new vehicles meet Euro 6 emissions standards.
Each of the new vehicles will also be fitted with CCTV, and USB charging points, while most will also have wi-fi installed, giving customers free internet access during their journeys.
The latest orders follow an annual competitive tendering process and the first of the new vehicles are being delivered from Spring 2017.
Highlights of the latest investment are around 180 low-floor double-decker vehicles to go into service across the UK, as well as around 60 single deck vehicles and 40 midibuses. Included in the latest order are the first purpose-build open top vehicles the company has ever ordered, plus new vehicles for the Cambridge Guided Busway and a fleet of 18 micro hybrid vehicles to go into operation in Sheffield, which have been partly funded by the Office for Low Emissions Vehicles (OLEV).
There are also 34 coaches for the Group's UK Bus, Scottish Citylink and megabus.com operations.
Stagecoach has already met its requirements under the UK Disability Discrimination Act deadline for double deck and single deck vehicles.
Stagecoach Group Chief Executive Martin Griffiths said: "Our focus is on delivering practical improvements to make travel even better for our customers. We are continuing to re-invest money from fares in state-of-the-art, cleaner, greener vehicles, digital technology and smart ticketing to deliver an even higher standard of service. These latest vehicle orders are an important part of our strategy to encourage even more people to take the bus.
"Local bus services are the backbone of the country's transport networks. However, the increasing problem of traffic congestion in our towns and cities is holding buses back and it is high time our politicians stepped up and took action to support bus passengers and free up road space to help bus networks flourish."
Details of the new orders are as follows:
122 ADL MMC E400 double-deckers
59 Scania ADL MMC E400 double-deckers
62 ADL MMC E200 single-deckers
40 ADL MMC E200 midibuses
18 Wrightbus StreetLite 11.5m Micro Hybrid single-deckers
7 Wrightbus Volvo open top double decker
2 Wrightbus Eclipse-Volvo single-deckers
9 Plaxton Elite i 15metre coaches
8 Plaxton Elite 6x2 15metre coaches
14 Plaxton Elite 4x2 coaches
3 Caetano Levante Volvo B11R 6x2 coaches
Stagecoach has made a series of other investments to help transform bus travel for customers, including:
the new 'Stagecoach Bus' smartphone app which provides customers with journey planning, next-stop information and live bus tracking, and enables people to buy and download bus tickets straight to their mobile phone.
Smart ticketing at all Stagecoach regional companies with more than two million StagecoachSmart cards in circulation and more than 330million smart transactions every year.
Multi-operator smart ticketing in all of England's city regions, benefitting around 15million people, and in several key areas of Scotland, delivered in partnership with other UK bus operators.
Contactless payments launched on Stagecoach services in Oxfordshire, Manchester and the north east of England, with the technology to be available at all Stagecoach bus companies by 2018.
A commitment to work with the UK's major bus operators on an ambitious scheme that could see contactless travel introduced on every one of the UK's 32,000-plus buses outside London by 2022.
Stagecoach Group
Stagecoach Group is an international public transport group, with extensive operations in the UK, the United States and Canada. The Group employs around 40,000 people, and operates around 13,000 buses, coaches, trains and trams.