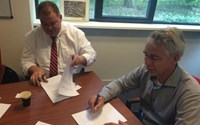 Strukton Rolling Stock and AmePower have signed a cooperation agreement to develop the US market for power electronics. The companies trust that, by working together, they will be able to help public transport companies refurbish their fleet or build new rolling stock in the most sustainable, flexible and efficient way. They are both dedicated to deliver tailor-made products and services and go for optimal customer satisfaction.
The two companies have been working together for several years, bringing Strukton's experience in GTO to IGBT conversion to the US market. Among the highlighted projects are a high power electric locomotive upgrade and the refurbishment of the propulsion system of the A650 heavy rail trains of the Los Angeles County Metropolitan Transportation Authority (LACMTA), which Talgo was recently awarded.
Strukton Rolling Stock specialises in power electronics for rolling stock and has projects world-wide. In the US market, Strukton successfully equipped the airport shuttles at O'Hare airport in Chicago with new propulsion systems in 2007 and prolonged the life of the vehicles with 20 years by doing so.
"The US has great public transport systems, both light rail and heavy rail. We can deliver experience built up during our long history of rolling stock refurbishment projects to guarantee a long life-span of the many fleets in operation in the US." Martien Janse, managing director at Strukton Rolling Stock.
AmePower specialises in supplying components like IGBTs and GTOs, building assemblies and repairing services for propulsion inverters. They are operating in different areas, including Transportation and Mining. AmePower's managing director Luis Contreras is happy to join forces with Strukton.
"We know the US market and have 20 years of experience in power electronics, but Strukton Rolling Stock brings additional experience in the specialised field of railways. And they are particularly good at bringing flexibility and sustainability through a cutting edge and modular technology and best of all, Buy America Act compliant." AmePower's managing director Luis Contreras.
About Strukton Rail in North America
The cooperation with AmePower is one of the first steps of Strukton Rail in the North American market. The Columbia (MD)-based company of Strukton Rail North America has now officially opened its business and will serve as a gateway to Strukton Rail, one of Europe's largest full-service and technology providers for rail systems, boasting more than 90 years of experience and accumulated know-how in construction and maintenance.
In the North American market, Strukton Rail North America focuses on two core competences: smart maintenance services for rail and rolling stock. By providing smart maintenance services, Strukton Rail North America supports its customers to improve the reliability, availability, maintainability and safety (RAMS) of the rail infrastructure. The company delivers overall smart maintenance solutions, asset condition monitoring systems, information systems and innovative technologies.
For rolling stock customers, the company delivers propulsion and auxiliary (related) systems for all types of rolling stock. Strukton's experience is not just in new IGBT based Propulsion Inverter but also in GTO to IGBT retrofits as well as replacement of obsolete traction inverters. They provide solutions for an ample spectrum of vehicles like Light Rail Vehicles (LRV), Heavy Rail Vehicles (HRV) all the way to locomotives.