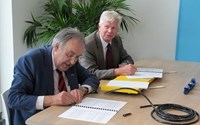 Strukton Systems has won the contract to install the Dutch ATB Vv train protection system on the Brabant Route from Rotterdam to Venlo and the A2 corridor from Alkmaar to Maastricht. Approximately 400 signals will be equipped with this improved version of ATB. The ATB Vv train protection system minimises the risk of a train passing a red signal, which increases the safety level.
ATB Vv
ATB is a Dutch train protection system that automatically stops trains approaching a red signal at speeds higher than 40 km/hour. The ATB Vv system is an improved version of the traditional ATB system, and also stops trains approaching a red signal at speeds lower than 40 km/hour. The Dutch Ministry of Infrastructure and the Environment decided to allocate more money for the roll-out of this system given the increasing volume of traffic on the Dutch railways. The current ATB system will be replaced with the European Rail Traffic Management System (ERTMS) on the long run.
The Brabant Route is a priority route for the installation of ATB Vv, because freight trains will frequently be redirected over this route during the construction of a 'third track' between the German cities of Emmerich and Oberhausen. Rail traffic on the A2 corridor from Alkmaar to Maastricht will increase, since the Dutch railway manager ProRail and the Dutch Railways are planning to start a programme enabling high-frequency rail transport with one train every 10 minutes between Eindhoven and Amsterdam in 2018.
Best Value Procurement
The contract was won after a 'best value procurement' procedure. This is a procurement system that looks at factors other than only price, such as quality and expertise, when selecting contractors. Patrick Buck (on behalf of ProRail) and Lex van Seventer (on behalf of Strukton Systems) signed the contract on Wednesday 13 July. The project preparations have started; materials have been ordered and the activities on approximately 80 railway yards will be planned.
About Strukton Rail
Strukton Rail provides cross-border solutions in the field of rail infrastructure, railway vehicles and mobility systems. Through almost a century of rail construction involvement, maintenance expertise and technological development we have successfully adopted, created and connected past, modern and future best practises:
Operational asset management
Monitoring systems (POSS)
Rolling stock systems
Signalling systems
Energy systems
High-output equipment
Training and certification