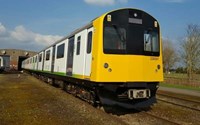 It all started two years ago with Vivarail's daring initiative to refurbish D78 London Underground stock into diesel-electric trains. Strukton Rolling Stock was selected to engineer and supply the traction and auxiliary systems. Cooperation proved to be smooth and powerful. Strukton was more than happy to continue this cooperation in Vivarail's next challenge: the development of a battery powered vehicle. Work on this new green project started at the beginning of 2017. The first test runs took place less than two months later.
Vivarail's philosophy is to deliver an environmentally-friendly train with different power options, enabling operators to choose the power option that best suits the demand in the particular local situation. Strukton's solutions satisfy this need of flexibility. While the batteries are delivered by Valence Technology, Strukton Rolling Stock delivers the traction and auxiliary systems and develops the software for the various operating modes of the vehicle. This enables Vivarail to offer not only diesel-electric, but also hybrid or even fully battery powered vehicles in the near future.
Vivarail ordered the first series of six traction systems from Strukton Rolling Stock early 2017, following the great demand for rolling stock and the success of its prototype diesel-electric vehicle. This order was extended with six auxiliary systems. Strukton will base its solution on an existing product to deliver at short notice and keep development cost to a minimum.
"Being able to rely on Strukton's professionalism and expertise throughout our D-Train project has been invaluable. The Strukton team have been entirely reliable and helpful; whenever a problem has arisen they have gone out of their way to help us resolve it. We count Strukton as one of our most trusted suppliers." Alice Gillman, Vivarail.
About Vivarail
Vivarail's primary objective has been to build a train that works well for operators and passengers alike. Led by Adrian Shooter and drawing upon 200 plus years of industry knowledge and experience the team has made sure that the Class 230 not only meets but exceeds the expectations of both operators and customers. As Chairman of Chiltern Railways, Adrian Shooter commissioned many new trains. During those years he became convinced there had to be a better way to design a train that would work equally well for operators and passengers. The Class 230 is the result.
About Strukton Rail
Strukton is passionate about technology, focusing on rail and civil engineering works and technology-driven specialist fields. The company distinguishes itself with a number of unique specialist fields geared towards the markets for rail systems, civil infrastructure and technique and buildings. Strukton's mission is to contribute to the quality and safety of rail transport, road infrastructure and technical systems and buildings. Principals are mainly located in Europe, and increasingly also outside Europe. Besides serving clients in the Netherlands and Europe, Strukton offers an increasing number of specialist services on the global market. The company has some 6,500 employees and an annual revenue of EUR 1.9 billion.
Strukton Rail is a subsidiary of Strukton and develops, constructs, installs, maintains and manages rail systems and electric train systems, with the goal of making rail systems optimally accessible, reliable, safe and measurable.