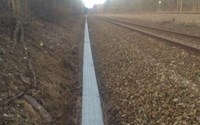 Strukton has won the contract for the supply and installation of cable troughs on the newly built Copenhagen-Ringsted line. Strukton has already laid the rails and sleepers on this line and is currently finishing the final layers of ballast. The Copenhagen-Ringsted line is Denmark's first high-speed line. It is expected to open for public use in December 2018.
Strukton has selected PcP as the supplier of the cable trough system, since their cable troughs are made of seawater-resistant aluminium and hot-dip galvanised high-strength steel. They are maintenance-free, theft-proof and easy to install. Strukton has good experience of PcP's cable trough system from the F service on the S-train network.
Copenhagen-Ringsted line
The Copenhagen-Ringsted line is Denmark's first high-speed line. The double-track high-speed line will run from the cities of Copenhagen and Ringsted via Køge. The line will be completely electrified. Track laying was completed on 8 February 2017 and the final layers of ballast will be finished in May 2017. In addition, electrification and signalling systems will be installed, sound walls will be built and extensive testing will be done. The high-speed line is expected to be ready for public use in December 2018. The maximum speed for passenger trains on the track will be 250 kilometres per hour. This will enhance the timetable with more train departures, diminishing journey times and decreasing the number of delays.
About Strukton Rail
Strukton is passionate about technology, focusing on rail and civil engineering works and technology-driven specialist fields. The company distinguishes itself with a number of unique specialist fields geared towards the markets for rail systems, civil infrastructure and technique and buildings. Strukton's mission is to contribute to the quality and safety of rail transport, road infrastructure and technical systems and buildings. Principals are mainly located in Europe, and increasingly also outside Europe. Besides serving clients in the Netherlands and Europe, Strukton offers an increasing number of specialist services on the global market. The company has some 6,500 employees and an annual revenue of EUR 1.9 billion.
Strukton Rail is a subsidiary of Strukton and develops, constructs, installs, maintains and manages rail systems and electric train systems, with the goal of making rail systems optimally accessible, reliable, safe and measurable.