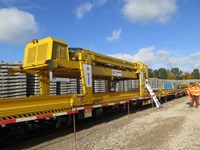 A starting event at the construction site in Ringsted on 28 October officially launched the start of the laying of the 60-kilometre long high-speed line between the Danish cities of Copenhagen and Ringsted via Køge.
Strukton Rail will perform this job in close cooperation with Banedanmark, which is a government agency under the Danish Ministry of Transport. The double-track line will be completely electrified. The tracks will allow passenger trains to run at speeds up to 250 km/h for passenger trains. The infrastructure should be ready in May 2017, after which the electrification and signalling systems will be installed, sound walls will be built and extensive testing will be done. The line is expected to open in December 2018.
The event began with speeches by the Danish minister for Transport and Buildings Hans Christian Schmidt, Banedanmark's CEO Per Jacobsen, Strukton Rail Denmark's managing director Jens Christian Jensen and Banedanmark's project director Jette Aagaard.
"We are proud to be contributing to the construction of the first high-speed rail in Denmark. Our goal is to deliver the best possible quality at an affordable price. We will construct the line in cooperation with our skilled Italian colleagues and their advanced construction machine. I would like to thank Banedanmark for the great cooperation, which is characterised by a solution-oriented mind-set of both parties with a common goal," Jens Christian Jensen, managing director at Strukton Rail A/S
Facts
Strukton's construction train will lay approximately 1,800 mm track a day
17 Sleeper wagons will be used
The total length of the construction train is 300 m
Each rail measures 120 metres and weighs 60 kg/m
No less than 180,000 sleepers will be laid in total
Each sleeper is 2.5 m long and weighs 300 kg
Construction has started on 1 November and will last till 1 May 2017
The track-laying machine will operate from the Ringsted site. The first stretch to be laid is from Ringsted to Køge North Station. The next phase is to Hvidovre. The final stage will be construction of the line between Hvidovre and Vigerslev.
About Strukton Rail
The cooperation with AmePower is one of the first steps of Strukton Rail in the North American market. The Columbia (MD)-based company of Strukton Rail North America has now officially opened its business and will serve as a gateway to Strukton Rail, one of Europe's largest full-service and technology providers for rail systems, boasting more than 90 years of experience and accumulated know-how in construction and maintenance.
In the North American market, Strukton Rail North America focuses on two core competences: smart maintenance services for rail and rolling stock. By providing smart maintenance services, Strukton Rail North America supports its customers to improve the reliability, availability, maintainability and safety (RAMS) of the rail infrastructure. The company delivers overall smart maintenance solutions, asset condition monitoring systems, information systems and innovative technologies.
For rolling stock customers, the company delivers propulsion and auxiliary (related) systems for all types of rolling stock. Strukton's experience is not just in new IGBT based Propulsion Inverter but also in GTO to IGBT retrofits as well as replacement of obsolete traction inverters. They provide solutions for an ample spectrum of vehicles like Light Rail Vehicles (LRV), Heavy Rail Vehicles (HRV) all the way to locomotives.