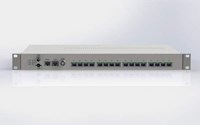 Already in 2015, 100 Strukton data loggers were installed for a monitoring pilot initiated by DB Netz AG on approximately 1.000 point machines in Germany. The second step is a large-scale roll-out on the DB Netz network, involving the connection of over 12,500 point machines to the DIANA monitoring and analysis platform. Strukton is delivering another 800 data loggers for this national roll-out.
The data loggers developed by Strukton in cooperation with DB Netz AG are based on the POSS monitoring system architecture. They are the result of the continued development of the new nano POSS hardware platform. Strukton's data loggers are compatible with the DIANA sensor DIR-ACS developed by DB Netz AG (which measures the control current) and support the OPC-UA protocol, which is the international standard and a requirement for open communication. The OPC-UA protocol enables successful system integration of a wide range of systems with the common DIANA platform.
100% Availability
Preventive maintenance is a central theme in the strategy of DB Netz AG. A precondition is that supplier independent data about the condition of assets are available at the press of a button. The aim: 100% availability of the systems. DB Netz AG intends to use the data and measurement results for preventive and predictive maintenance, in order to improve the availability of the systems and customer satisfaction. 100% Availability of the rail system should improve punctuality and prevent downtime due to breakdowns. DB Netz AG focuses on points to start with and aims to connect all relevant points to a remote condition monitoring system to identify possible future point failures at an early stage.
New technologies
Strukton is proud of the continued cooperation with DB Netz AG in the field of condition monitoring. Strukton invests in the application of new technologies for predictive maintenance of railway assets and delivers its smart maintenance services world-wide. This also includes the application of algorithms and big data for the targeted prediction of possible breakdowns.
About DB Netz
DB Netz AG is responsible for the approximately 33,000 km long rail network in Germany, which makes it Europe's largest rail infrastructure manager. The German railway network processes some 1.1 billion train kilometres a year. Over 38,000 employees are working at DB Netz AG.
About Strukton Rail
Strukton is passionate about technology, focusing on rail and civil engineering works and technology-driven specialist fields. The company distinguishes itself with a number of unique specialist fields geared towards the markets for rail systems, civil infrastructure and technique and buildings. Strukton's mission is to contribute to the quality and safety of rail transport, road infrastructure and technical systems and buildings. Principals are mainly located in Europe, and increasingly also outside Europe. Besides serving clients in the Netherlands and Europe, Strukton offers an increasing number of specialist services on the global market. The company has some 6,500 employees and an annual revenue of EUR 1.9 billion.
Strukton Rail is a subsidiary of Strukton and develops, constructs, installs, maintains and manages rail systems and electric train systems, with the goal of making rail systems optimally accessible, reliable, safe and measurable.