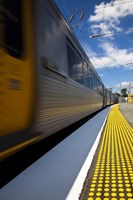 Strukton Rolling Stock's corporate social responsibility (CSR) programme has been awarded a 'Silver' medal based on the EcoVadis CSR assessment method. Strukton Rolling Stock scores a rating of 60 out of 100 within the EcoVadis rating system. This means that in terms of CSR performance, Strukton Rolling Stock belongs to the top 30% of suppliers assessed by EcoVadis.
EcoVadis has developed a CSR assessment method that allows the user to compare suppliers with regard to various environmental, social and ethical aspects. In addition, EcoVadis measures how the supplier scores on these points within its own supply chain.
Numerous companies
By now, numerous companies have adopted the EcoVadis method, using the CSR assessments to reduce risks, stimulate innovation and build trust between trading partners. For example, five major international railway companies and manufacturers (Alstom, Bombardier, Deutsche Bahn, NS (Dutch Railways) and SNCF) have joined forces in the 'Railresponsible' alliance, working together with EcoVadis to improve sustainability in the rail sector's supply chain.
Significant achievement
The fact that Strukton Rolling Stock has earned a 'Silver' level in the EcoVadis rating has already come to the attention of the Dutch railway company NS, the German operator Deutsche Bahn AG and the French national railway company SNCF.
About Strukton
The cooperation with AmePower is one of the first steps of Strukton Rail in the North American market. The Columbia (MD)-based company of Strukton Rail North America has now officially opened its business and will serve as a gateway to Strukton Rail, one of Europe's largest full-service and technology providers for rail systems, boasting more than 90 years of experience and accumulated know-how in construction and maintenance.
In the North American market, Strukton Rail North America focuses on two core competences: smart maintenance services for rail and rolling stock. By providing smart maintenance services, Strukton Rail North America supports its customers to improve the reliability, availability, maintainability and safety (RAMS) of the rail infrastructure. The company delivers overall smart maintenance solutions, asset condition monitoring systems, information systems and innovative technologies.
For rolling stock customers, the company delivers propulsion and auxiliary (related) systems for all types of rolling stock. Strukton's experience is not just in new IGBT based Propulsion Inverter but also in GTO to IGBT retrofits as well as replacement of obsolete traction inverters. They provide solutions for an ample spectrum of vehicles like Light Rail Vehicles (LRV), Heavy Rail Vehicles (HRV) all the way to locomotives.