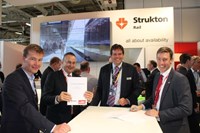 John Holland and Strukton Rail have announced the establishment of Acuit.Systems, an innovative joint venture that will deliver asset performance improvement services for railways in Australia and New Zealand. Acuit.Systems integrates rail data capture, analysis and visualisation with the provision of maintenance engineering to enable confidence in network reliability and availability.
Executive General Manager, Rail at John Holland, Gary Seabury, said Acuit.Systems offers a level of control that has never been possible until now.
"Our new joint venture will support railway owners and operators to understand their assets and provide them with the tools to execute an effective maintenance regime resulting in excellent performance and guaranteeing desired availability," he said. "John Holland has a long standing expertise in this field, with a strong network of customers and franchise partners, local market knowledge, industry accreditation and facilities"
Chief Operating Officer of Strukton Rail, Jacob Zeeman, said Acuit.Systems is a bespoke service that will enable commitment to performance-based outcomes for rail infrastructure assets.
"Every rail network is unique in its configuration. Our service will enable our customers to better align their staff and activities with a common strategic objective, thereby reducing whole-of-life costs for long life assets and sustaining or improving asset condition over time. Strukton Rail has developed processes and techniques to support its performance based on performance-driven maintenance contracts in Europe, and we look forward to extending that to Australia"
John Holland and Strukton Rail have launched the Acuit.Systems joint venture at the InnoTrans conference in Berlin. For more information, visit the John Holland stand in the Australian Rail Pavilion (Hall 10.2, Stand 216) or the Strukton stand at Hall 26 Stand 235.
About Strukton Rail
Strukton Rail provides cross-border solutions in the field of rail infrastructure, railway vehicles and mobility systems. Through almost a century of rail construction involvement, maintenance expertise and technological development we have successfully adopted, created and connected past, modern and future best practises:
Operational asset management
Monitoring systems (POSS)
Rolling stock systems
Signalling systems
Energy systems
High-output equipment
Training and certification