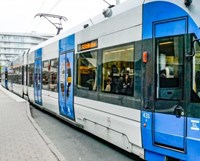 Strukton Rail will start with the renovation and expansion of the light rail network in Stockholm on March 26. The work, starting at Mårtensdal station in southern Stockholm, is part of the major expansion and installation of a new signalling system on the light rail line between Sickla and Solna.
While the track will get a new signalling system, Strukton will build new turning tracks at Mårtensdal, Årstaberg and Alviks Strand. This will allow trams to turn, change direction and operate limited distances, for example at rush hour. Along with the new signalling system, the turning tracks will allow for denser and more flexible traffic. In addition to the track-related activities, Strukton Rail is also responsible for some component changes during the installation of the signalling system.
"We begin with demolishing part of the light rail network before we will move existing tracks and make room for the new reversible tracks. Further/after that we will construct tracks and new exchanges", says Bart van Odijk, project manager at Strukton Rail.
Sunday March 26 will mark the start of six months of intensive work. Strukton will complete the work at the end of June, followed by testing of the signalling system and tracks before the train services will begin. During the activities, there will be a strong focus on keeping noise and other inconvenience at a reasonable level for residents along the light rail line.
"Our working hours are 7-19 on weekdays, but on some occasions we may need to work during the weekends and at night to meet the schedule. Extra strict rules for noisy work will apply in those cases. Noise meters have been placed along the entire work area, which enables us to keep good control of noise", says Bart.
The new signalling system will connect the rail line with new end station in Sickla, with the line that ends at Solna station. With the new system, tram commuters no longer will be bothered with today's tram change in Alvik. Once the works are completed in October, travellers can enjoy extended, more flexible and more frequent tram services.
About Strukton Rail
Strukton is passionate about technology, focusing on rail and civil engineering works and technology-driven specialist fields. The company distinguishes itself with a number of unique specialist fields geared towards the markets for rail systems, civil infrastructure and technique and buildings. Strukton's mission is to contribute to the quality and safety of rail transport, road infrastructure and technical systems and buildings. Principals are mainly located in Europe, and increasingly also outside Europe. Besides serving clients in the Netherlands and Europe, Strukton offers an increasing number of specialist services on the global market. The company has some 6,500 employees and an annual revenue of EUR 1.9 billion.
Strukton Rail is a subsidiary of Strukton and develops, constructs, installs, maintains and manages rail systems and electric train systems, with the goal of making rail systems optimally accessible, reliable, safe and measurable.