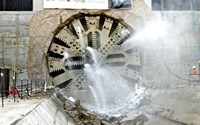 FAST Consortium is pleased to announce that "San'ah" Metro Tunnel Boring Machine (TBM) arrived at Salah Al-Din station which located between Orouba and King Abdulah road on Sunday October 4th 2015.
The machine completed 1.2 km out of its designated 5 km within line 5 (Green Line). The drilling, which commenced in 30th June 2015 - from the new headquarters of the ministry of education - will continue to drill the northern section of Line 5 (Green Line) until it reaches Riyadh Airbase Roundabout. It is there where it will meet our second TBM "Dhafrah" – the first metro TBM to start drilling in the Riyadh metro project – completing 12.9 km tunnel for line 5
"I congratulate my colleagues in FAST, our engineers and our partners from ADA and RAMPED on this achievement, and I am certain that we are moving towards the right direction." Jaime Freyre - FAST Project Director
FAST and Arriyadh Development Authority employees were joined by the residence of Salah Al-Din district who were invited to be part of this historical experience and to enforce the role these citizens are playing to help deliver this mega project in Riyadh. The Citizens of Salah Al-din district witnessed how the Machine's cutter head broke through the walls of the station which is 25 meter deep and commemorated FAST Saudi engineers who operate the machine coming out of the tunnel.
"We are committed to meeting our deadlines and we are proud that both our Metro TBM's have been the first in their achievements, Dhafrah being the first to be launched and San'ah the first to break through in the Riyadh Metro Project." Jaime Freyre - FAST Consortium Project Director
About the FAST Consortium
The FAST Consortium is constructing three of the six lines of the Riyadh Metro network, which together will span over a distance of 72.5 km, including underground, ground level and elevated stations, and will operate 69 driverless trains at speeds of up to 80 km/h. upon the launch of the project.
The FAST consortium is one of three consortia commissioned by Arriyadh Development Authority to build the Riyadh Metro - the world's largest public Transport project. The consortium's partners are FCC, Samsung C&T, Alstom, Strukton, Freyssinet Saudi Arabia, Atkins, Typsa and Setec.
About Strukton Rail
Strukton Rail provides cross-border solutions in the field of rail infrastructure, railway vehicles and mobility systems. Through almost a century of rail construction involvement, maintenance expertise and technological development we have successfully adopted, created and connected past, modern and future best practises:
Operational asset management
Monitoring systems (POSS)
Rolling stock systems
Signalling systems
Energy systems
High-output equipment
Training and certification
Our expertise, coupled with our approach as a full-service provider of rail, rolling stock and electrical systems has brought us customers all over Europe and beyond. We operate on an international basis and have long-term operations in the Netherlands, Sweden, Denmark, Belgium, Italy and Australia. Our subsidiary Eurailscout, specialist in monitoring the condition of the railway infrastructure, is based in the Netherlands, Germany and France.
Our goal is to make your rail transport a more competitive, safe and reliable option.