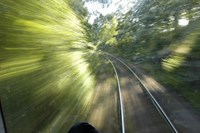 Strukton Rail has won a four-year framework agreement for DSB Infrastructure with effect from 1 April 2016.

The maintenance contract is offered as a four-year framework agreement with option on an additional two years and deals with track and mechanical track components on DSB's infrastructure. This includes tracks at repair, supply and cleaning facilities, as well as crossing X8184 at Otto Bussesvej.
Furthermore, the contract includes corrective, mechanical and electrical maintenance of flexible bridges and turntables.
About Strukton Rail
Strukton Rail provides cross-border solutions in the field of rail infrastructure, railway vehicles and mobility systems. Through almost a century of rail construction involvement, maintenance expertise and technological development we have successfully adopted, created and connected past, modern and future best practises:
Operational asset management
Monitoring systems (POSS)
Rolling stock systems
Signalling systems
Energy systems
High-output equipment
Training and certification
Our expertise, coupled with our approach as a full-service provider of rail, rolling stock and electrical systems has brought us customers all over Europe and beyond. We operate on an international basis and have long-term operations in the Netherlands, Sweden, Denmark, Belgium, Italy and Australia. Our subsidiary Eurailscout, specialist in monitoring the condition of the railway infrastructure, is based in the Netherlands, Germany and France.
Our goal is to make your rail transport a more competitive, safe and reliable option.