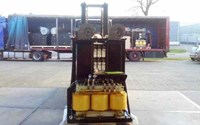 With the delivery of four sets of CBU systems to India on 8 December, Strukton Rolling Stock has completed a project phase in the design and delivery of electrical rolling stock systems. Strukton Rolling Stock has designed and delivered the boxes on behalf of Bharat Heavy Electricals Ltd. (BHEL) in Bangalore/India. The boxes will be installed in trains of Indian Railways running in the city of Mumbai.
The four sets are so-called CBUs (complete built units) and contain electrical traction converters and auxiliary converters for the second electrical train of the Indian Railways that will run with Strukton electronics. Strukton delivered the system for the first train in 2013. The transport of the boxes for the second train completes a project phase in which a prototype and the systems for two trains were designed and produced. Strukton Rolling Stock will deliver the materials and modules for another four trains in the new project phase. In the final project phase, Strukton Rolling Stock will deliver separate components and materials as and when requested by BHEL.
Transfer of technology
BHEL was looking for a supplier that was willing to transfer knowledge related to the commissioned products. This 'transfer of knowledge' is part of the contract and has enabled the Indian engineers to further expand their product knowledge. The technology transfer also makes it possible for them to maintain the equipment during the life cycle. Employees of BHEL have actively participated in the design, commissioning and test phases. Employees of BHEL and officers of Indian Railway's approval authority (RDSO) have also been present at the various module and system type tests.
About Strukton Rail
Strukton Rail provides cross-border solutions in the field of rail infrastructure, railway vehicles and mobility systems. Through almost a century of rail construction involvement, maintenance expertise and technological development we have successfully adopted, created and connected past, modern and future best practises:
Operational asset management
Monitoring systems (POSS)
Rolling stock systems
Signalling systems
Energy systems
High-output equipment
Training and certification
Our expertise, coupled with our approach as a full-service provider of rail, rolling stock and electrical systems has brought us customers all over Europe and beyond. We operate on an international basis and have long-term operations in the Netherlands, Sweden, Denmark, Belgium, Italy and Australia. Our subsidiary Eurailscout, specialist in monitoring the condition of the railway infrastructure, is based in the Netherlands, Germany and France.
Our goal is to make your rail transport a more competitive, safe and reliable option.