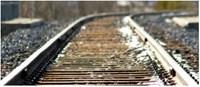 Strukton is currently responsible for the maintenance of the Svealand Railway. Having won the new contract, Strukton will continue its long-term ambition to keep the railway in good condition and contribute to trains running on time.
"We are pleased to be continuing our work. This new assignment is proof that the Trafikverket (the Swedish Transport Administration) is satisfied with our efforts, and we would like to continue this good cooperation," said Joakim Ahlström, contract manager at Strukton Rail
All in all, the Svealand Railway has 138 switches and 196 kilometres of rail with associated technology. The assignment involves maintaining and inspecting rails, electrical installations and signals. During the winter, Strukton clears snow and ice from rails, switches and train stations, and grits platforms on behalf of passenger safety.
This assignment shall last until 30 September 2023 and may then be extended by two years. The contract is worth more than EUR 74 million (SEK 256 million).
Svealand Railway
The Svealand Railway is an electrified railway that serves both freight and passenger traffic. It was rebuilt in the 1990s and is therefore one of Sweden's youngest railways. The exception is the Eskilstuna–Rekarne–Valskog route, which was upgraded instead of being rebuilt. The total length of the railway is 196 km including double tracks on the route between Nykvarn and Läggesta and between Eskilstuna and Folkesta. Further expansion is now underway with a double track being laid between Strängnäs and Härad. The project includes a close to three-kilometre-long tunnel and a new station building in Strängnäs. Everything is expected to be completed in the summer of 2018.
About Strukton Rail
Strukton is passionate about technology, focusing on rail and civil engineering works and technology-driven specialist fields. The company distinguishes itself with a number of unique specialist fields geared towards the markets for rail systems, civil infrastructure and technique and buildings. Strukton's mission is to contribute to the quality and safety of rail transport, road infrastructure and technical systems and buildings. Principals are mainly located in Europe, and increasingly also outside Europe. Besides serving clients in the Netherlands and Europe, Strukton offers an increasing number of specialist services on the global market. The company has some 6,500 employees and an annual revenue of EUR 1.9 billion.
Strukton Rail is a subsidiary of Strukton and develops, constructs, installs, maintains and manages rail systems and electric train systems, with the goal of making rail systems optimally accessible, reliable, safe and measurable.