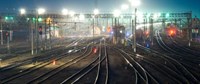 Strukton Rail is to install the European Rail Traffic Management System (ERTMS) on a test track between Katrineholm and Åby on behalf of Trafikverket. Trafikverket's mission is that the system's functionality should be tested in a real railway environment without affecting traffic.
ERTMS is a system introduced within the EU to simplify rail transport between countries (interoperability) and release time for denser traffic. Sweden is still using the older ATC signalling system, but the Swedish Transport Administration is now preparing to install ERTMS. ERTMS is expected to be installed in its entirety in Europe by 2035.
Strukton's work includes preparing the test track technology for the new system.
"We will parallelise the ATC signals of the track with the two different ERTMS systems to be tested. We will install signalling coders at the end of the track, sending information to the onboard equipment on the track's test train, which of the ERTMS systems the train will follow" said Eva Spove, Strukton Rail location manager.
Strukton will also install balises, substations, electrical and telecommunications equipment, and provide for the signalling connections between new and existing technology. The work will start this week and will be completed in November 2017.
About Strukton Rail
Strukton is passionate about technology, focusing on rail and civil engineering works and technology-driven specialist fields. The company distinguishes itself with a number of unique specialist fields geared towards the markets for rail systems, civil infrastructure and technique and buildings. Strukton's mission is to contribute to the quality and safety of rail transport, road infrastructure and technical systems and buildings. Principals are mainly located in Europe, and increasingly also outside Europe. Besides serving clients in the Netherlands and Europe, Strukton offers an increasing number of specialist services on the global market. The company has some 6,500 employees and an annual revenue of EUR 1.9 billion.
Strukton Rail is a subsidiary of Strukton and develops, constructs, installs, maintains and manages rail systems and electric train systems, with the goal of making rail systems optimally accessible, reliable, safe and measurable.