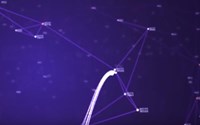 T-Mobile Netherlands has started to activate its Internet-of-Things (IoT) network in the Netherlands. T-Mobile is the first in the world to roll out a NarrowBand-IoT network on such a large scale. Dual Inventive belongs to the first group of companies that will test their IoT application the network. Strukton Rail, working closely together with companies like Dual Inventive to innovate the railway industry, welcomes this step.
NB-IoT is considered to be the standard for IoT networks that enable 'things' to communicate very efficiently. The so-called Low Power Wide Area technology allows sensors to be connected to the Internet in an efficient manner. The costs of the hardware and energy consumption are low, while the strength of the signal is up to ten times stronger than that of GSM. A sensor can pass on information on just one battery for years, including in places that are difficult to reach. As a result, the technology can be applied virtually everywhere and over a long period of time.
IoT standardization for railways
This means for example that installing sensors in the tracks will become easier and more cost-effective says.
"We will integrate the network within the MTinfo 3000 Cloud, the Internet of Things platform for the railways. Our other partner Vodafone will roll-out a similar network. We are now working out test plans with Vodafone as well." Dual Inventive's managing director Lex van der Poel.
Better performance
Strukton Rail welcomes the IoT network, since it has well-advanced plans to use Dual Inventive's MTinfo 3000 as an overall platform for existing IoT applications. One of those cloud based applications is POSS, Strukton's preventive maintenance and fault diagnosis system. With multiple large clients worldwide, POSS is a well- known tool for more than 15 years in the industry. The combination with NB-IoT will increase the amount of measureable assets and therefore generate more opportunities for better performances in the railway sector.
"The IoT will enable the railway industry to take a huge step to further improve the safety and reliability of the railways, since it will open up loads of data that can be used for predictive maintenance." Jacob Zeeman, managing director at Strukton Rail Nederland.
From this week, T-Mobile's NB-IoT network will be available in Amsterdam, Rotterdam, The Hague, Eindhoven and the Schiphol area. More locations will follow in the coming month and the network will be rolled out nationwide in the course of 2017.
Steps by T-Mobile in the Netherlands
IoT must become available for everyone. That is T-Mobiles basic aim. The market has reached the point where 'talking about business models' is shifting to 'taking actual steps'. T-Mobile is proud to be the first party with whom customers can actually start to conduct tests on a NB-IoT network.
"A lot of parties have been waiting for this because, if you are in the IoT business, this is the standard you are going to want to base your operations on." Michiel Huisken, responsible for IoT at T-Mobile Netherlands
About Strukton
The cooperation with AmePower is one of the first steps of Strukton Rail in the North American market. The Columbia (MD)-based company of Strukton Rail North America has now officially opened its business and will serve as a gateway to Strukton Rail, one of Europe's largest full-service and technology providers for rail systems, boasting more than 90 years of experience and accumulated know-how in construction and maintenance.
In the North American market, Strukton Rail North America focuses on two core competences: smart maintenance services for rail and rolling stock. By providing smart maintenance services, Strukton Rail North America supports its customers to improve the reliability, availability, maintainability and safety (RAMS) of the rail infrastructure. The company delivers overall smart maintenance solutions, asset condition monitoring systems, information systems and innovative technologies.
For rolling stock customers, the company delivers propulsion and auxiliary (related) systems for all types of rolling stock. Strukton's experience is not just in new IGBT based Propulsion Inverter but also in GTO to IGBT retrofits as well as replacement of obsolete traction inverters. They provide solutions for an ample spectrum of vehicles like Light Rail Vehicles (LRV), Heavy Rail Vehicles (HRV) all the way to locomotives.