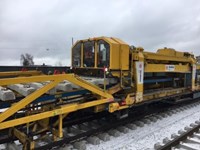 On Wednesday 8 February 2017, Strukton Rail laid the final rails of the new high-speed railway line between Copenhagen and Ringsted via Køge.
Accordingly, the entire 60 km stretch of dual track railway now has sleepers and rails, with completion scheduled for December 2018.
"This is an important milestone for Banedanmark, and we take pride in saying we have laid the last rails and sleepers for Denmark's first high-speed railway. Now all that remains is to lay the final layers of ballast and make final adjustments to the tracks before we can begin on the next stage of the project, setting up power masts, electrifying the rails and establishing the new signals system." - Jette Aagaard, project director Banedanmark.
Strukton Rail Denmark, which laid the tracks for Banedanmark, began work on 31 October last year, laying just under 2,000 m of track per day.
"The construction of the railway has exceeded all expectations, and that's thanks to our skilled team of track builders. Positive, constructive cooperation throughout our organisation, as well as with Banedanmark, has brought about this success story. We look forward to continuing our good working relationship with Banedanmark in making Denmark's first high-speed railway a success" - Jacky Dalby, project director Strukton Denmark.
Once the new high-speed railway from Copenhagen to Ringsted via Køge opens for traffic in December 2018, the timetable will be enhanced with more train departures, shorter journey times and fewer delays.
About Strukton Rail
Strukton is passionate about technology, focusing on rail and civil engineering works and technology-driven specialist fields. The company distinguishes itself with a number of unique specialist fields geared towards the markets for rail systems, civil infrastructure and technique and buildings. Strukton's mission is to contribute to the quality and safety of rail transport, road infrastructure and technical systems and buildings. Principals are mainly located in Europe, and increasingly also outside Europe. Besides serving clients in the Netherlands and Europe, Strukton offers an increasing number of specialist services on the global market. The company has some 6,500 employees and an annual revenue of EUR 1.9 billion.
Strukton Rail is a subsidiary of Strukton and develops, constructs, installs, maintains and manages rail systems and electric train systems, with the goal of making rail systems optimally accessible, reliable, safe and measurable.