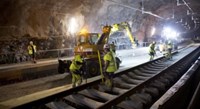 Trafikverket has awarded two new rail maintenance contracts in Stockholm to Strukton Rail. The first contract concerns the maintenance of the newly constructed Stockholm Citybanan. The second contract concerns the railway through central Stockholm. Both contracts include preventive and corrective maintenance of the tracks, electrical systems and signalling technology, and round-the-clock fault clearing services.
Citybanan
The Citybanan is a completely new six-kilometre long commuter line with double track, running through tunnels under Stockholm's city centre. The line will be opened for passengers in 2017. Strukton Rail has built this new city line and, having won the maintenance contract, will also be responsible for railway maintenance once the path opens to traffic. The contract will be valid for five years from 1 September 2016, starting well before the City Line opens the station doors to the public.
The Citybanan enables long-distance trains and commuter trains to take different routes through the city of Stockholm. Commuter trains will run on the Citybanan beneath the city, while long-distance trains will run above ground through the Central Bridge before reaching Stockholm Central. The Citybanan runs from Årstabron south of Stockholm and connects to Mälarbanan in Karlberg, just north of Stockholm Central Station. The line doubles rail capacity through central Stockholm and will provide new track capacity for commuter trains. This will have positive effects for the long-distance rail traffic throughout Sweden.
Strukton Rail will perform the maintenance activities according to Trafikverket's high quality standards and during time slots when train services have stopped for the night. Strukton Rail's engineers will check the tracks and replace parts when necessary during the night. Within a short period of time Strukton will detect and repair parts in the case of failures that affect train traffic.
Central Stockholm
The railway through central Stockholm is not only one of Sweden's oldest railway lines, but also the busiest railway line in Sweden, with about 550 trains running on the line each day. The southern entrance to Stockholm central station is called a rail bottleneck because of its narrow passage and dense traffic, which also complicates the maintenance of the railway through central Stockholm. This will be solved once the Citybanan is opened for passengers in 2017.
Starting 1st May 2017, Strukton will continue to take care of the maintenance of the tracks, electrical systems and signalling systems between Stuvsta and Sörentorp, and between Tomteboda and Sundbyberg. The new maintenance contract will be valid for five years and can be extended by an option for a further 1 + 1 year.
"We are very excited about this new contract for central Stockholm. We are responsible for the maintenance of the same tracks today, but the new maintenance contract also includes round-the-clock faultclearing services in case of faults during train services. This central and important position requires of course that we will be quickly on site if anything happens", says Lars Schyllander, regional manager at Strukton Rail.
Facts
Citybanan
Railways through central Stockholm

11.4 track kilometres between the stations of Stockholm South and Tomteboda
Double track
Line runs through tunnels under central Stockholm and includes two new commuter stations: Stockholm Odenplan and Stockholm City
Beneath Söderström, the line runs through an immersed tunnel on the seabed
Maintenance contract includes rail, electrical and signalling technology and recovery services
Maintenance contract will be valid from 1st September 2016 till 31st August 2021

200 track kilometres and related track, power and signalling technology
Railway line between Stuvsta and Sörentorp and between Tomteboda and Sundbyberg
Maintenance contract includes rail, electrical and signalling technology and recovery services

Maintenance contract will be valid from 1st May 2017 till 30th April 2022, and can be extended with an option for 1 + 1 year
About Strukton Rail in Sweden
In Sweden, Strukton Rail AB has around 870 employees and is Scandinavia's largest private rail contractor, building and maintaining railways in all disciplines (track, power supply and signalling). Strukton Rail is a European group with operations in Denmark, Sweden, the Netherlands, Belgium, and Italy. In Stockholm, Strukton Rail is responsible for the maintenance of the Underground and Roslagsbanan infrastructure on behalf of Storstockholm Lokaltrafik (SL). Strukton contributes to the promise of punctual rail traffic, ensuring that the railway lines and facilities are of high standard and meet the needs of a growing population today and in the future. www.strukton.se
About Strukton Rail
Strukton Rail provides cross-border solutions in the field of rail infrastructure, railway vehicles and mobility systems. Through almost a century of rail construction involvement, maintenance expertise and technological development we have successfully adopted, created and connected past, modern and future best practises:
Operational asset management
Monitoring systems (POSS)
Rolling stock systems
Signalling systems
Energy systems
High-output equipment
Training and certification
Our expertise, coupled with our approach as a full-service provider of rail, rolling stock and electrical systems has brought us customers all over Europe and beyond. We operate on an international basis and have long-term operations in the Netherlands, Sweden, Denmark, Belgium, Italy and Australia. Our subsidiary Eurailscout, specialist in monitoring the condition of the railway infrastructure, is based in the Netherlands, Germany and France.
Our goal is to make your rail transport a more competitive, safe and reliable option.