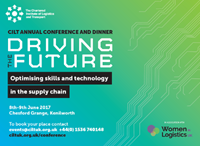 The CILT Annual Conference and Dinner 2017 will consider the challenges and opportunities of optimising skills and technology in the supply chain.
The conference, "Driving the Future", will take place at Chesford Grange in Kenilworth, Warwickshire on 8th June 2017.
Bringing together the world's most prominent minds in logistics, operations management and transport, this year's expert speakers will engage and inform delegates on how to cope with the demands of the future of the profession.
This year's line-up consists of leading academics and high-profile professionals from major logistics and transport organisations who are at the forefront of change and understand the challenges our sectors will face.
The CILT Annual Conference 2017 line-up includes:
Conference Chair: Martijn Gilbert, Chief Executive Officer, Reading Buses
Neil Ashworth, Chief Executive Officer, Collect+
Beverley Bell, Senior Traffic Commissioner for Great Britain
Major General Angus Fay, Assistant Chief of Defence Staff (Logistics Operations), UK Ministry of Defence
Stefano Perego, Head of UK Customer Fulfillment, Amazon
Paul Kehoe, Chief Executive Officer, Birmingham International Airport
Professor Alan McKinnon, Professor of Logistics, Kühne Logistics University
Tony O'Brien, Managing Director, Panasonic Systems Solutions Europe
Andy Parsons, Director, AutoLogic Systems
Lucy Holland, Logistics Project Support Manager, Sainsbury's
Robin Proctor, President, CILT(UK)
Adrian Jones, Unite National Officer, Road Transport Commercial Logistics and Retail Distribution
Professor Edward Sweeney, Professor of Logistics and Head of Group, Aston University
Professor Richard Wilding OBE, Professor of Supply Chain Strategy Demand Chain Management, Cranfield School of Management
Bethany Forvargue, Operations Manager, Novus
Jim Spittle, Chairman, GS1 UK
David Waboso, Group Managing Director, Digital Railway, Network Rail
Richard Potter, Innovation and Digital Transformation Leader, Sopra Steria
Shulah Jones, Head of Business Strategy and Project Director, Port Academy Liverpool
Martin Elliott, Solutions Manager, Logistex
Neil Griffiths, Divisional Director – Logistics, Arco
Professor David Cebon, Professor of Mechanical Engineering, University of Cambridge.
"Driving the Future" is set to be CILT's biggest, most enlightening and most dynamic Conference to date Conference and will inspire, challenge and prepare delegates for the future.
The programme will be split into three streams (below) and will conclude with a debate: Technology should replace logistics and transport professionals.
Encouraging excellence: how we can develop the skills of our talented and diverse workforce
Transforming technology: how we can capitalise on the next big thing
Implementing innovation: what we need to do to facilitate change
Commenting on the announcement of the line-up of speakers and panellists for this year's CILT Annual Conference Kevin Richardson, Chief Executive, CILT, said: "We are delighted to have such a wealth of expert speakers at this year's Annual Conference. After what was a turbulent political year, our conference will prepare our profession for the challenges that lie ahead and the opportunities that are available to keep our profession at the top of its game. It is evident that through the top speakers we attract, CILT is the leading voice to inspire, engage and promote this great profession."
To book a place and to see a detailed itinerary of the day's event and confirmed speakers, go to the Driving the Future webpage.
About The Chartered Institute of Logistics and Transport (CLIT)
The Chartered Institute of Logistics and Transport in the UK - CILT(UK) - is the independent professional body for individuals associated with logistics, supply chains and all transport throughout their careers.
CILT(UK) - is the UK territorial body of CILT, which has a presence in more than 30 countries across the world. This network of members and contacts can connect all CILT members wherever they are in the world and constitutes the greatest resource of professional expertise within our areas of interest.