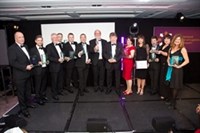 500 of the UK's leading professionals in logistics, transport and operations gathered at the Lancaster London Hotel last night for The Chartered Institute of Logistics and Transport's Annual Awards Dinner.
CILT's Annual Awards are designed to recognise achievement and to encourage the highest standards and a professional approach to the practice of logistics, transport and operations.
Hailed as one of the best networking events of the year, this year's Awards were attended by finalists, sponsors, members and their guests and the Institute received a record number of entries for 2016.
The event was chaired by CILT President Will Whitehorn, and hosted by TV presenter Naga Munchetty.
There were a total of 16 categories presented on the night and CILT's President Will Whitehorn presented the Awards to each winner.
Kevin Richardson, Chief Executive, CILT, said: "Our Awards recognise those individuals and businesses who demonstrate a significant contribution to the development of our profession and sector. We received an overwhelming amount of quality entries this year and our judging panel had the difficult task of choosing this year's winners. Congratulations to all of our winners and finalists for 2016. It is great to see and celebrate so many innovative and pioneering projects in our profession."
CILT's premier award for outstanding achievement, the Sir Robert Lawrence Award, was presented by John Boulter, Managing Director, DHL Supply Chain to Professor Alan Braithwaite, Chairman, LCP Consulting.
Other winners on the night included: Jaguar Land Rover, Reading Buses, UPS, Transport for Greater Manchester and Argos.
The winners of the CILT Annual Awards for Excellence 2016 are:
McKibbin Research Foundation Award, Sponsored by Bisham Consulting, Amy Harhoff, Transport for the North
Journalist of the Year, Sponsored by DP World, Paul Clifton, BBC
Student of the Year, Sponsored by Michael Page, Lisa Sweeney, Atlantic Container Line
Young Manager of the Year, Sponsored by Hays Recruitment, Joshua Start, Wilson James
Freight Transport Best Practice, Sponsored by FORS, Jaguar Land Rover
Passenger Transport Best Practice, Sponsored by XPO Logistics, Swansea University and First Cymru
Warehouse Operations, Sponsored by Toyota Material Handling (UK), Culina and General Mills
Information Management, Sponsored by Tachograph Analysis Consultants Limited (TACL), Labyrinth Logistics Consulting Ltd
Development of People, Sponsored by Fleet Source, Reading Buses
Operations Excellence, Sponsored by Bis Henderson, Auto-Rescue Logistics
Transport Policy and Planning, Sponsored by AECOM, Transport for Greater Manchester
Supply Chain Innovation, Sponsored by BT Supply Chain, Argos
Safety, Andrew Drewary Consultancy and Owen Groups UK Limited
Environmental Improvement, Sponsored by The Environmental Network, United Parcel Service (UPS)
Vulnerable Road Users Safety, Sponsored by Transport for London, Hertfordshire Road Safety Partnership
Sir Robert Lawrence Award, Sponsored by DHL Supply Chain, Professor Alan Braithwaite
About The Chartered Institute of Logistics and Transport (CILT)
The Chartered Institute of Logistics and Transport in the UK - CILT(UK) - is the independent professional body for individuals associated with logistics, supply chains and all transport throughout their careers.
CILT(UK) - is the UK territorial body of CILT, which has a presence in more than 30 countries across the world. This network of members and contacts can connect all CILT members wherever they are in the world and constitutes the greatest resource of professional expertise within our areas of interest.