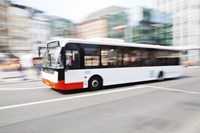 Busmark, the bus and coach benchmarking club of the leading professional logistics and transport body, The Chartered Institute of Logistics and Transport (CILT), has published its findings from a recent Busmark survey addressing the current driver shortage in the industry.
Over 50 drivers from Busmark operators including; National Express, Reading Buses, Abellio and McGill's took part in the survey and the Institute will use the findings to inform the debate and raise the profile of the industry.
The responses to the bus and coach driver survey highlighted four possible solutions to the challenge of attracting and retaining professional drivers, including: enhanced rewards, improving the industry image, increased corporate social responsibility and improved relations between employers and employees.
Busmark will use this data to help share best practice, solutions and innovative thinking in dealing with the associated issues.
Key findings of the survey include:
79% of drivers believe it is the responsibility of bus and coach companies to find solutions to the issues
44 participants cited unsociable hours as a factor for the driver shortage
There is a poor general public attitude towards drivers

39 participants believe the Government should help improve the industry image

52% of drivers do not feel as satisfied with their role as they once used to

29 participants feel staff development initiatives would help deal with the driver shortage
Austin Birks, Chair, Bus & Coach Forum, CILT, said: "We greatly appreciate the effort made by all our Busmark members who participated in the driver survey. The results made interesting reading and we will now consider how best we can encourage people to join the industry."
To view the survey results in full, click here.
About The Chartered Institute of Logistics and Transport (CILT)
The Chartered Institute of Logistics and Transport in the UK - CILT(UK) - is the independent professional body for individuals associated with logistics, supply chains and all transport throughout their careers.
CILT(UK) - is the UK territorial body of CILT, which has a presence in more than 30 countries across the world. This network of members and contacts can connect all CILT members wherever they are in the world and constitutes the greatest resource of professional expertise within our areas of interest.