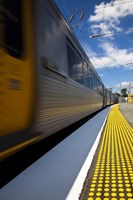 The New Year will has brought about a new era for The Chartered Institute of Logistics and Transport (CILT), as Lieutenant Colonel (Ret) Kevin Byrne takes over from out-going President Paul Brooks.
CILT is the leading professional body for Logistics and Transport specialists the world over. A family of over 35,000 members, the Institute seeks to promote excellence and understanding through education, supporting industry professionals and providing opportunities for continuous career development.
'The Future is Ours'
Building on the excellent work done by Paul Brooks, and before him Dr Dorothy Chan, Kevin's focus will be on growing the Institute, increasing membership, political influence, and expanding into new territories. Writing under the title 'The Future Is Ours', Kevin has set out a vision as incoming President that puts younger members and potential members at its heart.
'A Partner for Life'
Kevin is an experienced educator, having taught part-time on the BSc and MSc programmes in Aviation Management in Dublin City University and on similar courses in Coventry University in the UK. Already familiar with the Institute's work as the leading provider of industry qualifications through his time as Chairman of the International Education Standards Committee, Kevin will look to harness the 'Institute's excellent educational offerings' with an emphasis on the role of continuing professional development, ensuring 'the Institute really can be a partner for life'.
Kevin is a CILT veteran, having joined the then CIT in Ireland in 1992 as a Chartered Member. In 2002 he became a Chartered Fellow. Having served on the national council for many years, he was elected National President for two years, beginning in 2003, and an International Vice-President in 2010. In January 2015 he was appointed as President-Elect of CILT International.
He is also a distinguished military man, having held a variety of appointments both in Ireland and overseas. For more than twenty years he was on the active air traffic controllers' panel, while his postings included time in the operations and public relations offices, as well as Commander of the Technical Training School, and later the Military Police unit. In late 1984 he served in a UN peacekeeping role in the Middle East, working in the Lebanon and Israel. His 2006 overseas tour of duty, lasting seven months, was as an EU Logistics Advisor to the African Union Mission in Sudan, based in the Ethiopian capital, Addis Ababa. His final posting was as the Senior Staff Officer responsible for Logistics at Air Corps Headquarters.
In addition to a wealth of experience, Kevin holds a BA Degree from University College, Galway, as well as an MSc in Airport Planning and Management from Loughborough University, and a post-graduate certificate from the Command and Staff School of the Irish Military College. In 2009 he graduated with the Certificate in Strategic Leadership from the National University of Ireland, Maynooth. Additionally he holds various ICAO and IATA qualifications in aviation emergency planning, and regularly assesses major airport exercises. He still finds time to contribute to various BBC local radio programmes on a myriad of aviation subjects.
The Institute is delighted to have a leader of Kevin's calibre. His undoubted leadership skills, deep understanding of educational values and thorough industry knowledge promise to make his 2 year tenure a successful one for the entire CILT family.
About The Chartered Institute of Logistics and Transport (CLIT)
The Chartered Institute of Logistics and Transport in the UK - CILT(UK) - is the independent professional body for individuals associated with logistics, supply chains and all transport throughout their careers.
CILT(UK) - is the UK territorial body of CILT, which has a presence in more than 30 countries across the world. This network of members and contacts can connect all CILT members wherever they are in the world and constitutes the greatest resource of professional expertise within our areas of interest.