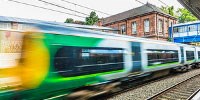 £13 million package of improvements in new contract that will see London Midland continue to run services until October 2017.
Passengers will benefit from £13 million worth of improvements – including more services, around 6,600 extra seats, free Wi-Fi and better ticketing – after the government agreed a new deal for rail services in the region today (3 December 2015).
Under the contract, which will deliver improved connections, a better customer experience and set tough new targets, London Midland will continue to run services between London, the West Midlands and the north-west of England until October 2017.
Rail Minister Claire Perry said:
"We have already delivered significant improvements in the West Midlands and surrounding areas – including investing more than £60 million in a fleet of brand new trains, and the massive £750 million redevelopment of Birmingham New Street station which was completed earlier this year.
Today's contract with London Midland builds on this work, and will not only ensure that customers continue to benefit from better journeys, but also support long-term economic growth in the region and beyond.
Millions of passengers will benefit from better journeys."
Improved connections
2 extra evening services every weekday from London to the Trent Valley, providing an additional 2,300 seats from Euston each week
earlier services to central Birmingham on Sunday mornings from surrounding towns including Rugby and Lichfield
new Sunday services from Longbridge, Dorridge and Whitlocks End
these services give more than 900 extra seats every week, benefiting shoppers, workers and local businesses
an extra daily return service on the Abbey line, between Watford Junction and St Albans Abbey, providing an extra 3,400 seats every week
A better customer experience
free Wi-Fi on long-distance services between London Euston, Birmingham, Crewe, and Liverpool, and a commitment that free Wi-Fi will be rolled out on all services when the next fully-competed franchise starts
new and upgraded ticket machines at selected stations, with new 'click and collect' capability and contactless payment options
more than 400 extra car parking spaces across 3 stations – Watford, Hemel Hempstead and Tamworth
Tough new targets
London Midland will have to meet new targets for passenger satisfaction, punctuality and cleanliness
extra drivers, conductors and on-board staff to be recruited to ensure improvements are delivered
Passenger benefits of the West Midlands direct award franchise.
London Midland will also install CCTV on cross-city Birmingham services to improve security, and equip station staff with tablets to improve the information given to customers. The operator will also be required to work with the Smart Cities Partnership to introduce smart ticketing on trains, building on the existing Swift smartcard scheme, to provide seamless and more convenient journeys for passengers.
London Midland managing director Patrick Verwer said:
"Winning this contract is a great endorsement by the DfT of how London Midland is focused on improving our passengers' journeys. Since 2007 we have invested nearly £300 million in trains and stations. Over the last 2 years we have significantly improved performance – cutting both delays and cancellations. Twelve months ago we delivered a further £60 million investment in 10 brand new trains. Last year we also introduced a new timetable, offering more seats and services than ever before into and out of major towns and cities and cut our Birmingham to London fares by up to 40%.
This new franchise offers some very exciting opportunities and will bring benefits touching every element of our passengers' journeys. It will enable us to continue delivering improvements for our customers and, as before, we remain committed to listening to our passengers and working with our stakeholders, communities and local elected representatives to make further improvements in the months ahead."
The West Midlands franchise will be funded with a subsidy of £130 million over the duration of the direct award (April 2016 to October 2017). Around 64 million passenger journeys are made on London Midland services every year.
In addition to the improvements being delivered through the franchise, the government is also pushing ahead with electrification of the Chase line from Walsall to Rugeley Trent Valley, and the extension of electric services to a new station at Bromsgrove. Further investment between Nuneaton and Leamington Spa will see two new stations opening soon at Coventry Arena and Bermuda Park. A new station, partly funded through the government's New Stations Fund, is also being built at Kenilworth and will be served by a new Leamington Spa to Coventry service when it opens.
About CILT(UK)
CILT(UK) - is the UK territorial body of CILT, which has a presence in more than 30 countries across the world. This network of members and contacts can connect all CILT members wherever they are in the world and constitutes the greatest resource of professional expertise within our areas of interest.
Our Values
We have adopted a set of values which guide our work across the profession and enable us to be clear as to our purpose and our method. We will be inclusive and welcoming to all
promote professionalism and high standards
act at all times in an ethical way
create activities to inspire individual opportunity
care deeply about our environment, our economy and our society
be vibrant and progressive
Our Vision
To be the leading global membership organisation providing education and development for both individuals and corporations within our range of professions
Our goals
We have adopted a set of values:
to be recognised as a leading policy and practitioner voice on logistics, supply chain and transport issues
to raise the image and status of our profession
to have a membership which reflects the diversity of the societies in which we operate
to be the provider of 'the standard' qualifications for the profession
to significantly increase membership by growing both individual and corporate numbers
to be recognised as an ambassador for CILT across the world
to generate sufficient funds to fulfil our obligations and to invest to meet our vision.