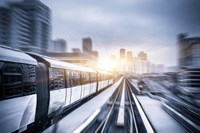 The Chartered Institute of Logistics and Transport (CILT) welcomes the commitment in the Queen's Speech that the Government will bring forward further legislation on HS2, which will create much needed additional capacity for passengers and freight on Britain's busiest rail route, introduce new rolling stock and provide station upgrades.
We are, however, concerned that there was no mention of Crossrail 2 in the Speech. This scheme is vital not only to keep London moving and to support its further economic and social development, but also as a key element of the national transport infrastructure which serves the entire national economy. As Britain looks to plan for a post-Brexit future, investment in mobility is of even greater importance. Therefore, CILT calls on the Government to make a clear commitment to the future of the Crossrail 2 project.
Daniel Parker-Klein, Head of Policy, CILT says: "It is imperative that Government commits to support the development of Crossrail 2. This scheme is essential for not only London's future but for the whole of the UK. There is little time for delay – a hybrid bill must be submitted by 2020. Without it, the benefits of HS2 may not be realised, the movement of goods and people will be constrained and the UK's economy will be less resilient to meet the demands of an uncertain future."
About The Chartered Institute of Logistics and Transport (CILT)
The Chartered Institute of Logistics and Transport in the UK - CILT(UK) - is the independent professional body for individuals associated with logistics, supply chains and all transport throughout their careers.
CILT(UK) - is the UK territorial body of CILT, which has a presence in more than 30 countries across the world. This network of members and contacts can connect all CILT members wherever they are in the world and constitutes the greatest resource of professional expertise within our areas of interest.