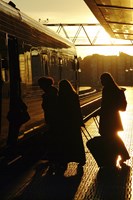 Rail industry leaders have highlighted the value of Britain's multi-billion pound investment in the railway as passenger numbers continue to reach record highs.

Train journeys across Britain rose by almost four per cent overall, up 60million to nearly 1.7billion, in the last financial year*.

Against a backdrop of low petrol prices for motorists and slower growth in the economy generally, revenue from passengers grew by more than five per cent to £9.3billion in 2015-16 thanks to the increase in journeys - generating more money to be spent improving rail services and to meet the extra demand.

Britain's railway is undergoing one of the biggest investment programmes in its history to provide much-needed extra capacity, more services and better journeys.

Paul Plummer, chief executive of the Rail Delivery Group (RDG), which represents train operators and Network Rail, said:

"Rail keeps Britain moving, but our network is very busy at times due to a big increase in services as passengers numbers have doubled. It is vital that we invest and plan long-term for this ever-growing demand.

"Billions of pounds are being spent to improve reliability and increase capacity, reversing decades of under-investment. Money from fares is helping to build the bigger, better, modern railway that Britain needs, giving customers faster journeys and improved facilities.

"While there has been growth overall in the past year, these are challenging times. There has been a slowdown in the rate of growth in some areas of the rail market and we are analysing how factors such as a worsening economic outlook or continued low petrol prices may be affecting train travel."

Figures from the RDG show that between April 2015 and the end of March 2016:
There were 60million more journeys made than the previous year – a 3.7 per cent rise to 1.7billion, more than 4.6million a day on average;
Journeys on Anytime and Season tickets accounted for more than one billion of the total;
Journey growth in the last 12 months was greatest in London and the South East, up 4.2 per cent to almost 1.2billion. Long-distance routes saw a 3.3 per cent increase in journeys (to 139million) and regional routes 2.3 per cent more (to 379million).
Demand for fully flexible and first class fares grew significantly over the last year. The year-on-year growth includes an almost eight per cent rise in journeys on unrestricted Anytime tickets, which can be used on any train.

Off-Peak first class journeys rose by nearly ten per cent to 1.4million, with Anytime first class journeys up more than three per cent to 3.7million.

Journeys by commuters with Season tickets rose by almost two per cent to 658million.
About The Chartered Institute of Logistics and Transport (CILT) UK
CILT(UK) - is the UK territorial body of CILT, which has a presence in more than 30 countries across the world. This network of members and contacts can connect all CILT members wherever they are in the world and constitutes the greatest resource of professional expertise within our areas of interest.
We have adopted a set of values which guide our work across the profession and enable us to be clear as to our purpose and our method. We will be inclusive and welcoming to all
promote professionalism and high standards
act at all times in an ethical way
create activities to inspire individual opportunity
care deeply about our environment, our economy and our society
be vibrant and progressive