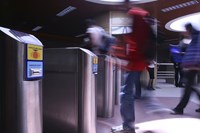 Paper train tickets could become a thing of the past within eight years under new plans to make rail passengers use their smartphone or bank card to travel instead.
Smart cards, which can be topped-up online, are also being considered an option as rail bosses try to devise ways of cutting queues and costs.
Orange paper tickets, which have been around for nearly 150 years, are deemed an unnecessary expensive and hugely flawed due to the small print which can be easy to smudge and hard to read.
They could be on their way out by 2022, one transport insider told the Daily Mail, adding that bar codes would become the norm.
Rail minister Claire Perry said that while smartcards and mobile ticketing were working well across the network, they would never introduce a ticketing option that wasn't right for all passengers.
Bruce Williamson of Railfuture, an independent organisation campaigning for better rail services, was relieved that Mrs Perry had adopted such a considered approach.
He told the Telegraph: "Batteries die, phones die, people don't have them - these are all problems that need to be looked at.
"There are a number of people who aren't in the 21st century and I think it is important that the rail industry keeps those options open."
About The Chartered Institute of Logistics and Transport
The Chartered Institute of Logistics and Transport in the UK - CILT(UK) - is the independent professional body for individuals associated with logistics, supply chains and all transport throughout their careers.
CILT(UK) - is the UK territorial body of CILT, which has a presence in more than 30 countries across the world. This network of members and contacts can connect all CILT members wherever they are in the world and constitutes the greatest resource of professional expertise within our areas of interest.