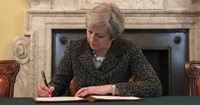 Theresa May has signed the letter that will formally begin the UK's departure from the European Union. Giving official notice under Article 50 of the Lisbon Treaty, it will be delivered to European Council president Donald Tusk. In a statement in the Commons, the prime minister will tell MPs this marks "the moment for the country to come together".
Kevin Richardson, Chief Executive, CILT, said: "Now that Article 50 has been triggered, the profession still faces a period of continued uncertainty, but we must all be aware of the many opportunities that can arise from Brexit. As a profession, we need to be ready and able to seize them and add value; that's what we, as professionals, do.
"The work of the professionals involved in the movement of goods and people - and their associated supply chains - impacts directly on every element of society and the environment, therefore the Institute will continue to play a role in informing policy and our Government's choices so that British companies can operate successfully and competitively.
"We will continue to support Government to ensure that the UK is easy to do business with. CILT recommends setting a goal of 'frictionless' border control, whilst encouraging and supporting the private sector to evaluate and think about new trading patterns and supply chains.
"There is a need to establish rights for EU citizens to protect the 400,000 plus people engaged in retail and logistics. The Government should do all it can to accelerate and incentivise training and apprenticeships. Finally, I encourage the incentivisation of the rapid adoption of automation across many areas of our profession to give the UK a head-start in this post-Brexit world."
About The Chartered Institute of Logistics and Transport (CLIT)
The Chartered Institute of Logistics and Transport in the UK - CILT(UK) - is the independent professional body for individuals associated with logistics, supply chains and all transport throughout their careers.
CILT(UK) - is the UK territorial body of CILT, which has a presence in more than 30 countries across the world. This network of members and contacts can connect all CILT members wherever they are in the world and constitutes the greatest resource of professional expertise within our areas of interest.